Doggy Paddle
August 21st, 2021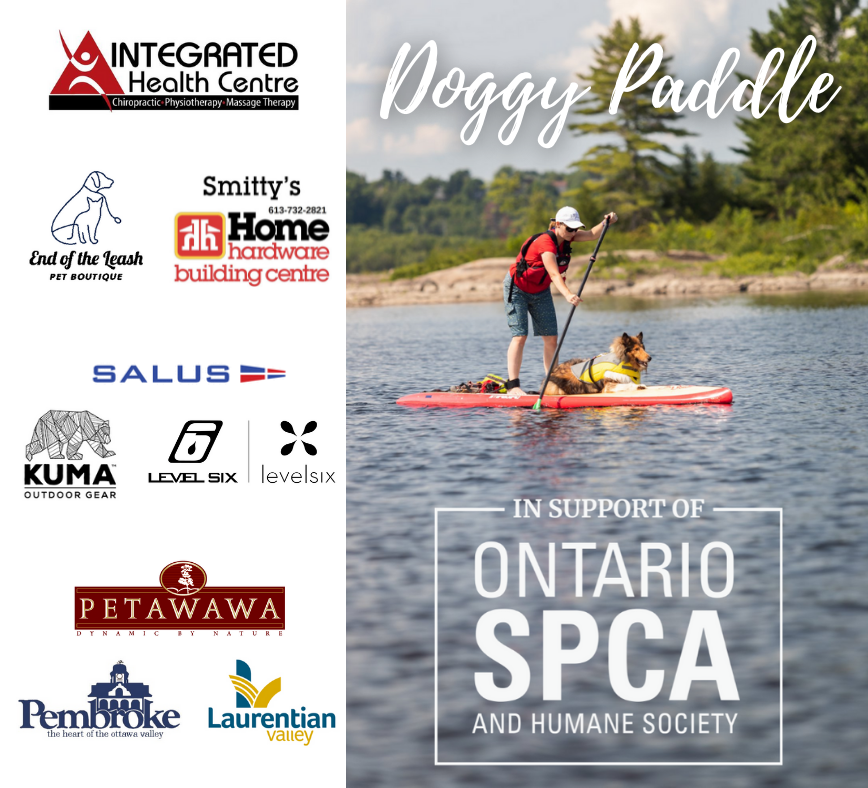 The Town of Petawawa, City of Pembroke and the Township of Laurentian Valley are partnering together to bring you an all new event in 2021: Doggy Paddle for the Renfrew County OSPCA!
Canoe with your canine, kayak with a kitten or SUP with your Pup in support of a great cause. No sidekick, no problem - come out with your two-legged friends to enjoy some time on the water in support of the Ontario SPCA Renfrew County Animal Centre.
Event Details
Date: August 21, 2021
Time: 10:00am
Location: Petawawa Point, 1073 Islandview Drive, Petawawa, ON.
Route Options
5 km guided route (cap 50 paddlers) – beginners and new paddlers or those with furry passengers.
10 km guided route (cap 50 paddlers) – intermediate and advanced paddlers with experience or well adapted furry friends.
Registration
Please note that spaces are limited.
Registration is $40 per person – includes registration, t-shirt, and lunch
Registration fees cover the event costs for paddlers – donations are all in support of the Ontario SPCA Renfrew County Animal Centre.
For every $100 a paddler raises they will receive an extra draw ticket to win prizes.
Please download and read through this document after you register.
Registration for Paddlers: https://www.eventbrite.ca/e/doggy-paddle-tickets-162425092825
See the
Pledge Form
below as well, which can be used if people are unable to make their donations online, or would prefer to donate cash or cheque. Tax receipts can be issued for donations over $10 as long as all of the donors contact info is on the pledge form and yes this goes for any businesses you know that might wish to donate/get involved!! Pledge forms along with any funds raised can be brought to event and turned in morning of (we'll have one of our awesome volunteers Lea on site who is well versed in these pledge forms).
Safety
COVID – the event will follow all current COVID-19 parameters and protocols with regards to physical distancing, number of participants in a event and all other current procedures. This may have an effect on the event capacity or other factors. Adjustment may be made to the event to ensure we meet all requiremenets
WATER SAFETY – ALL paddlers will require a safety kit.
Kayak & Canoe: whistle, bailing bucket, floating rope and be wearing a pfd/ lifejacket
Stand Up Paddleboard: whistle, leash, and be wearing a pfd/ lifejacket
Paddlers under the age of 18 must be accompanied by an adult and wear all safety equipment
Questions or Concerns:
Recreation Program Coordinator ~ Community Services, Town of Petawawa