Santa Claus Parade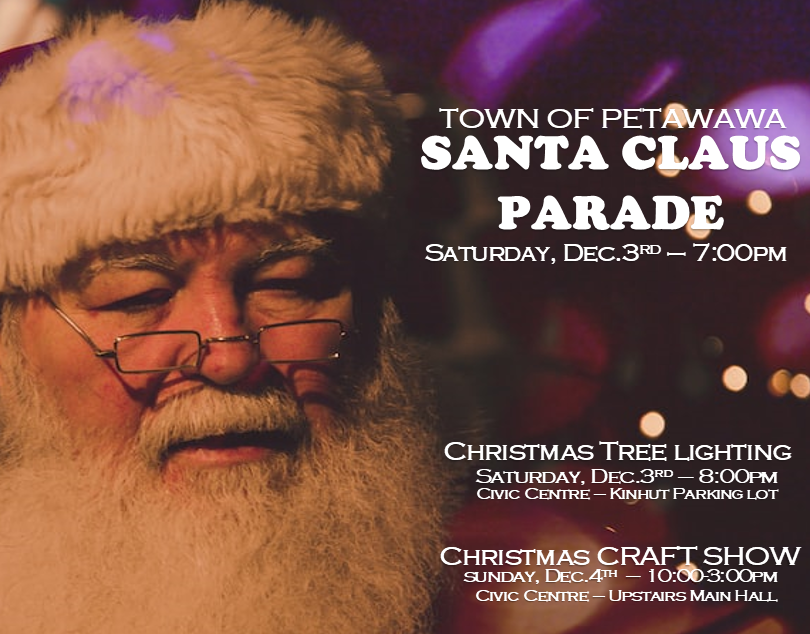 EVERYTHING IS STILL RUNNING AS PER THE SCHEDULE - December 3, 2022 2:45pm - Dress for the elements and stay warm, we will see you tonight!!
Whether you want to watch all the great floats and entertainment or enter a float of your own in the parade, come out to show your Christmas spirit and be a part of Petawawa's Santa Claus Parade!
This year's parade will be happening on Saturday, December 3rd, 2022 starting at 7:00 pm. The parade will travel Petawawa Plaza, Mohns Ave., Doran, Herman St. Murphy Rd., Civic Centre Rd. and then finish at the Civic Centre Parking lot.
After the parade, join us for the tree lighting ceremony in the Petawawa Container Market (Kinhut) parking lot at approximately 8:00 pm.
There is also, this year, an outdoor Christmas (tailgate) market event in the Kin Hut area which will run from 4 pm - 9 pm. Local businesses are providing treats and beverages to attendees and local crafters, artisans and vendors will have goods and products available as they convert their rides into stores for this fun event! Learn more about the outdoor Christmas (tailgate) market.
Register to enter a float in the Santa Claus Parade
Please note registration is required to enter a float into the Santa Claus Parade. ***Registration is now open***
For more information:
Phone: 613-687-5678 ext. 2102
Email: ccoyle@petawawa.ca