Petawawa Ramble Scavenger Hunt
October 14th, 2022 to October 16th 2022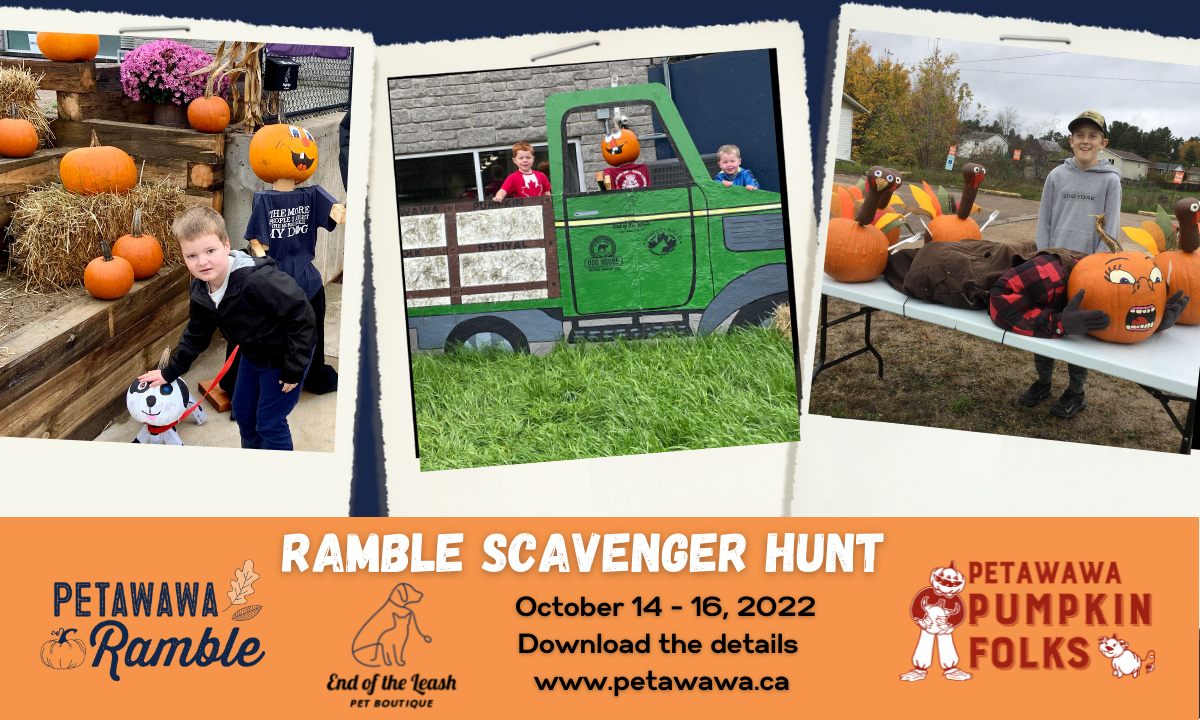 Win prizes just for Rambling with us! This activity is generously sponsored by End of the Leash Pet Boutique. Winners will be selected based on the completion of their submissions, followed by the creativity of their images. Winners will be contacted and announcements made on social media during the last week of October.
To submit your completed Scavenger Hunt packages: email ecdevpetawawa@gmail.com using wetransfer.com.

Photos must be received and dated between October 14th - October 21st to be eligible for prize consideration.
Please submit through wetransfer.com site. This is a FREE service that will send all ten images in one email and can be sent direct from your phone. Submissions in other forms will not be accepted.
Have a wonderful ramble through our community and enjoy our autumn nature!
Petawawa Ramble Photo Scavenger Contest
Please submit one photo (total of ten) for an eligible entry into this contest. You may not submit the same photo twice so think about which photo works best for any particular category.
If you need addresses for some of these locations you can search them through the Petawawa Ramble google map page we created.
1. Submit a picture from one of the six (6) Ramble Sponsors
Mike's Hardware Doors and So Much More (Petawawa Ramble Title Sponsor)
McKie Pools and Spas (Petawawa Ramble Business Display Contest Sponsor)
Cindy Sell, Broker Re/Max Realty Ltd. Pembroke (Residential Display Contest Sponsor)
H&H Construction (Event, Pints and Gourds Sponsor)
Mount Molson Dairy Bar (Harvest Walk Portrait Sponsor)
End of the Leash Pet Boutique (Ramble Scavenger Hunt Sponsor)
2. Submit a picture from one of the Community display locations
104.9 MY FM
Les Coureurs de Bois Running Club
Petawawa Fire Department
Petawawa Heritage Village
Petawawa Public Library
Petawawa Silver Threads
Pine Arts Collective
Pine View Public School
Pure Country 96.7/ Kelsey's
Rotary Club of Petawawa
Royal Canadian Legion Branch 517
St. John's Lutheran Church
Valley Eats
Valour JK-12 School
Watch my 6 Service Dogs
3. Submit a picture from one of the displays whose primary service is food or beverage preparation and/or sales
Becker's, The Blvd., Greco & Petawawa River Inn and Suites
Dog House Brewing Company
Hyska's YIG
Mary Brown's
McGuire's Doughnuts
Mount Molson Dairy Bar
Starbucks Petawawa
Sunny Side Up Breakfast Buffet
The Shed
Valley Eats
Valley Smoke House
4. Submit a picture from one of the following health & wellness and/or instructional businesses
Algonquin Sewing Centre
Canna Connect
Music for Young Children
Pine Arts Collective
Starz in Motion Dance Studio
The House of Hair
The Urban Lounge Salon & Spa
5. Submit a photo from one of the pet service businesses
Bright Eyes and Bushy Tails
End of the Leash Pet Boutique
Pet Valu with OSPCA
Petawawa Animal Hospital
Watch my Six Service Dogs
6. Submit a photo from one of the displays representing a service business
Cindy Sell, Re/Max Realty Pembroke
Dexterra
Home Front Dental
Hyundai Pembroke
Petawawa Dental Centre
Petawawa Physiotherapy & Sports Injury Clinic
PMFRC
Quality Inn and Suites Petawawa
Slater Homes
Speed Pro Signs
TownePlace Inn and Suites Petawawa
VC Athletic Therapy & Bracing
Waito Homes
7. Submit a photo from one of the retail (primarily non-food) sector displays
Algonquin Sewing Centre
Fleurish
Gearheads
Kushys
Looking Glass Toys and Games
McKie Pools and Spas
Mike's Hardware Doors and So Much More
Prairie and Luna Cannabis Co.
The Country Cupboard
Valley Creations
8. Submit a photo of one of the activities you participated in as part of the Petawawa Ramble weekend. Remember the photos can't be used twice so your activity photos have to be truly part of an activity you did ei:) Pints and Gourds, Werewolves in the Village, Harvest Photo Walk, Pig Roast, Heritage Village, etc.
9. Submit a photo of your personal favourite display
10. Submit a photo of a display you would nominate for honourable mention
---