Petawawa Ramble Photo Scavenger Hunt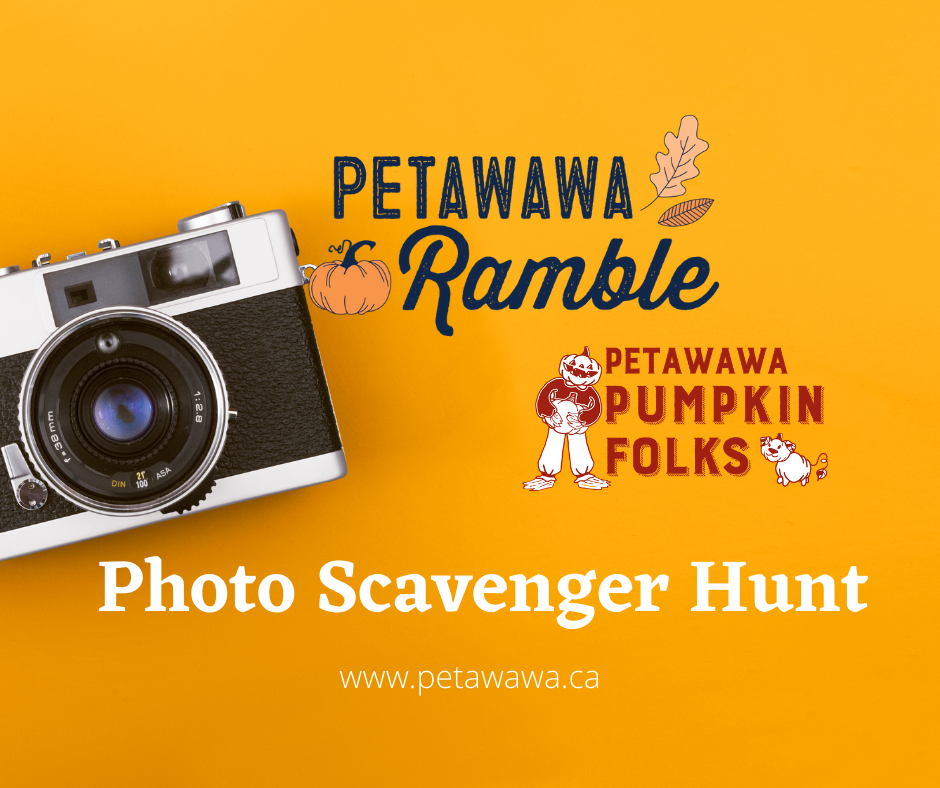 To submit photos: email your scavenger hunt images to ecdevpetawawa@gmail.com using wetransfer.com. Photos are due by October 23, 2020 to be eligible for prize consideration. Please submit through wetransfer.com site, a FREE service as it will send all ten images in one email and from your phone. Submission in other forms will not be accepted.
Please be safe for yourself, your family and for our community. The pumpkin folks is a self-guided exploration which you can take by vehicle, bike or on foot in your small family groups. If you are ill, you should stay home, remember to physical distance from others, if you can't, wear a mask. In all public spaces masks are respectfully required at all times. Do not manipulate or otherwise engage with the displays, you can take pictures at a distance or you can get selfies in proximity, but we do ask that you do not climb upon or otherwise engage with the displays. Finally, please sanitize or wash your hands often.
Have a wonderful ramble through our community and enjoy our autumn nature!
Petawawa Ramble Photo Scavenger Contest
Please submit one photo (total of ten) for an eligible entry into this contest. You may not submit the same photo twice so think about which photo works best for any particular category.
If you need addresses for some of these locations you can search them through the Petawawa Ramble google map page we created.
1. Submit a picture from one of the four (4) Ramble Sponsors
Mike's Hardware Doors and So Much More (Petawawa Ramble Title Sponsor)
McKie Pools and Spas (Petawawa Ramble Business Display Contest Sponsor)
Cindy Sell, Broker Re/Max Realty Ltd. Pembroke (Residential Display Contest Sponsor)
H&H Construction (Event, Pints and Gourds Sponsor) Display will only be available on Saturday at Kin Hut location 16 Civic Centre Road
2. Submit a picture from one of the Community display locations.
CNL
Les Coureurs De Bois
myFM 104.9
Ottawa Valley Grocery
Petawawa Public Library
Pure Country 96.7
Rotary Club Petawawa
Silver Threads Community Centre
Watch My Six with Dog House Brewing Company Ltd.
3. Submit a picture from one of the displays whose primary service is food preparation or sales
Hyska's YIG
J&E's Bored N' Saucy
Mary Browns
Ottawa Valley Mrs. Grocery
Starbucks Petawawa
Sunny Side Up Breakfast Buffet
The Shed
Tim Horton's McCluskey Group
4. Submit a picture from one of the displays representing home industry/Insitutional businesses
Music for Young Children
Slater Homes
St. John's Lutheran Church
With this Ring
5. Submit a picture from one of the displays representing the automotive sector
Art-e-Motive
Hyundai Pembroke
Pembroke Mitsubishi
6. Submit a photo from the one of the displays representing the health and wellness sector
Beyond Nutrition
Beyond the Mat Yoga and Fitness
Mulvihills Drug Mart
Peak Hot Yoga
The House of Hair
VC Athletic Therapy and Bracing
7. Submit a photo from one of the displays representing a service business
Century 21 Aspire Real Estate
Cindy Sell, Re/Max Realty Pembroke
Michelle Mortgages
Paramount Kitchens
Speed Pro Signs
Starz in Motion Dance Studio
TD Bank
Waito Homes
Western Financial Group
8. Submit a photo from one of the retail (non food) sector displays
Algonquin Sewing Centre
ESSO
Fleurish
Looking Glass Toys and Games
McKie Pools and Spas
Mike's Hardware Doors and So Much More
Quality Inn and Suites Petawawa
Rona
The Country Cupboard
TownePlace Inn and Suites Petawawa
Valley Gunsmithing
9. Submit a photo of your personal favourite display

10.Submit a photo of a display you would nominate for honourable mention
---

NEW this year, as part of the Petawawa Ramble, visitors can participate in a photo scavenger hunt for a chance to win some very cool prizes from our local Petawawa business community.
The details of the photo scavenger hunt will be available here and on the Petawawa Ramble Facebook page on October 15th, the start of the Petawawa Ramble. Participants will have until the end of Petawawa Ramble, October 18th, to submit their scavenger hunt package.
Due to COVID-19, we ask that people refrain from using the Pumpkin Folks displays and interactive exhibits - they are for viewing only. With this in mind, you can still take images with yourselves in the picture, just from a distance and not integrating yourself within the harvest vignette.
The mission will be selfie shots of key points of interest. Check back on October 15 for complete details!