Sign Permit Application
Here you will find information specific to Sign Permits!
Signs in our Municipality are regulated by Sign By-Law 1573/23. The purpose of the Sign By-law is to permit the effective use of signs as a means to deliver and communicate specific messaging and encourage aesthetically pleasing sign development, in terms of size, design, and location within the Town of Petawawa. The By-law will ensure that signs do not compromise traffic safety, and will minimize possibilities of hazards to life or property, and the adverse impact on nearby public and private property.
Before You Begin
Before you begin your Cloudpermit, please ensure you have all the information ready:
1. Register for a Cloudpermit account.
2. A detailed site plan depicting property lines, all distances between, buildings on the site, sign location and street/avenue. *see attachment*
3. A detailed working drawing. *see attachment*
4. If you do not own the building you are going to be using the sign for, you will need a letter of approval from the property owner. *see attachment*
5. A drawing depicting the lens or proof of what the sign image will show/read.
For the detailed document depicting exactly what we require please see attached documents at the bottom of the page!
Our Municipal Council endorsed sign by-law 1573/23

NOTE: The Cloudpermit software works best with Google Chrome on a Desktop/tablet unit. Using a phone or other browser (i.e. Microsoft Edge) will affect your viewing of the software and may impact the ability to process and upload some of your permit documents.



F.A.Q.'s
I haved moved into a business that has an existing sign and I want to change it; do I need a permit?
Section 4.1.3 This by-law shall apply to all signs and other advertising devices within the limits of the Town except as otherwise provided in this by-law. The addition, alteration, or change of the advertising message on a sign face is classified as a new sign, under new tenant occupancy, or ownership, and therefore requires a sign permit.
What if I'm just changing the lens face of my existing business sign?
You are not required to have a permit, but you will need approval from the Chief Building Official or designate for the sign messaging.
I want to have a portable sign what are the rules on that?
Section 8.2.7 Details the rules for portable signs and the process to apply for the permit is documented in Section 9.2.
Do I need a sign permit for my home business?
Section 8.1.7 outlines Home Occupation/Home Industry Signs
What is a sight triangle?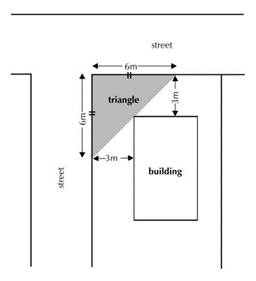 A sight triangle is created by measuring a point that represents the position of the driver of the stopped vehicle, then by? measuring along the intersecting road from a point, at or near thecenter of the lane, where the vehicle would normally be stopped at the intersection a distance equal to intersection sight distance left and right as calculated during the design.
What is a minor variance?
A minor variance approval is a certificate of permission that allows a property owner to obtain a building permit even though their development proposal does not comply precisely with the zoning by-law.



If you require additional assistance please reach out to Katie Bickford, Planning and Development Administrative Assistant at kbickford@petawawa.ca or 613-687-5536 ext 2011