Upper Ottawa River Race & Paddle Festival
August 7th, 2020 to August 9th 2020

2020 VIRTUAL PADDLE!
In light of the COVID-19 pandemic, we are moving to a vitual paddle for 2020 and hope you will still get involved! Check our Facebook event for ALL details. Looking forward to seeing some great photos!!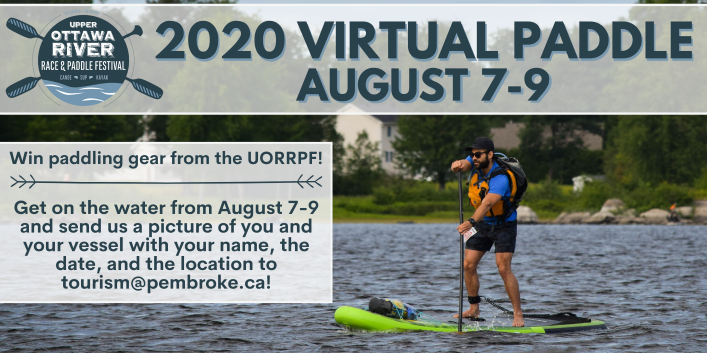 2020 NOTICE: The organizing committee of the Upper Ottawa River Race & Paddle Festival has come to the unfortunate decision of cancelling the 2020 festival scheduled for August 7-8. Maintaining public safety and health was a paramount concern and consideration in making this decision. We thank everyone who has supported this event, including our sponsors and devoted participants, for their understanding. Refunds will be issued to participants who have already registered.

The Upper Ottawa River Race & Paddle Festival, presented by Canadian Nuclear Laboratories, is a two-day festival held in August celebrating everything paddling between Petawawa and Pembroke, Ontario (1.5 hours west of Ottawa) along the mighty and historic Ottawa River.
The festival features kayak, canoe, outrigger, prone and stand up paddling (SUP) races on the Ottawa River (40 km, 13 km, 4 km or kids races). For non-racers who fish out of a human-powered watercraft, there's the Kayak Fishing Derby which is a "catch, measure, photo, release" tournament open to all anglers. A fun time for sponsors and local business awaits in the Celebrity Charity Race.
Other activities include demos, clinics, vendors area, SUP yoga and more enhanced by great food and performances by local entertainers.
Included with registration are a race shirt (guaranteed only for registrations received by July 15), a pile of swag (we've been told it's the best race swag-bag ever), catered lunch & dinner (guest tickets available at $10/person per meal), a shuttle to pick up your vehicle (40 km & 13 km), prizes and trophies in a variety of categories, great camaraderie and a weekend of fun!
We are grateful to our sponsors as this event could not run without them. Please take a look at our Sponsors page to acknowledge them.
Stay with us at Riverside Park Campground and enjoy the festivities and evening activities (located right at the finish line). If camping is not your thing, book at event sponsor Quality Inn Petawawa. Other options: Petawawa or Pembroke.



This event is jointly hosted by the Town of Petawawa and the City of Pembroke.