Petawawa River Bridge (B203) Rehabilitation
The County of Renfrew has provided notice of its intention to rehabilitate the Petawawa River Bridge in 2022. The work is anticipated to occur between May and November of 2022.

The rough scope of the proposed works with details for traffic management is documented below. They do anticipate leaving one lane of the bridge open during construction with signalized service from Parthem.
The County of Renfrew contact for this project is:
Michael Behm - Technical Services Supervisor
Department of Public Works & Engineering
County of Renfrew
Phone: 613-732-4353 x 478
Cell: 613-281-1244
Email: MEBehm@countyofrenfrew.on.ca
The Contractor hired by the County of Renfrew for this project is:
Travis Moreau
Project Coordinator
Bonnechere Excavting Inc.
Phone: 613-312-9874
Email: tmoreau@bonnechereexcavating.com
In the event you can't reach Travis please call John Fraser at 613-227-5350
May 5, 2022, the County of Renfrew issued a media release regarding the Petawawa River Bridge (B203) project. (see a full release in the files below)
May 3, 2022, the County of Renfrew has hand-delivered public notices to the businesses and residents in the area surrounding the Petawawa River Bridge (B203) project. In the files below is a copy of the letter for easy print.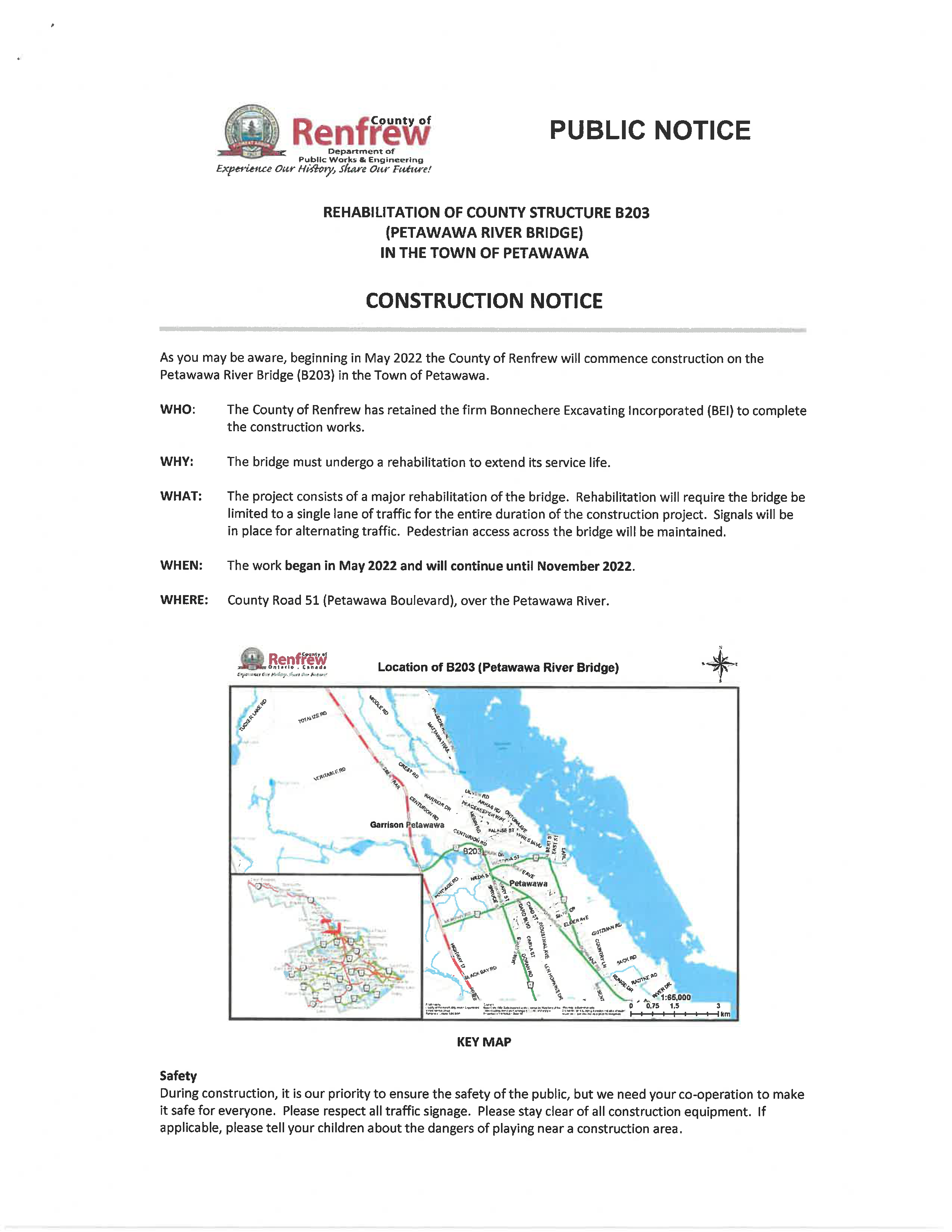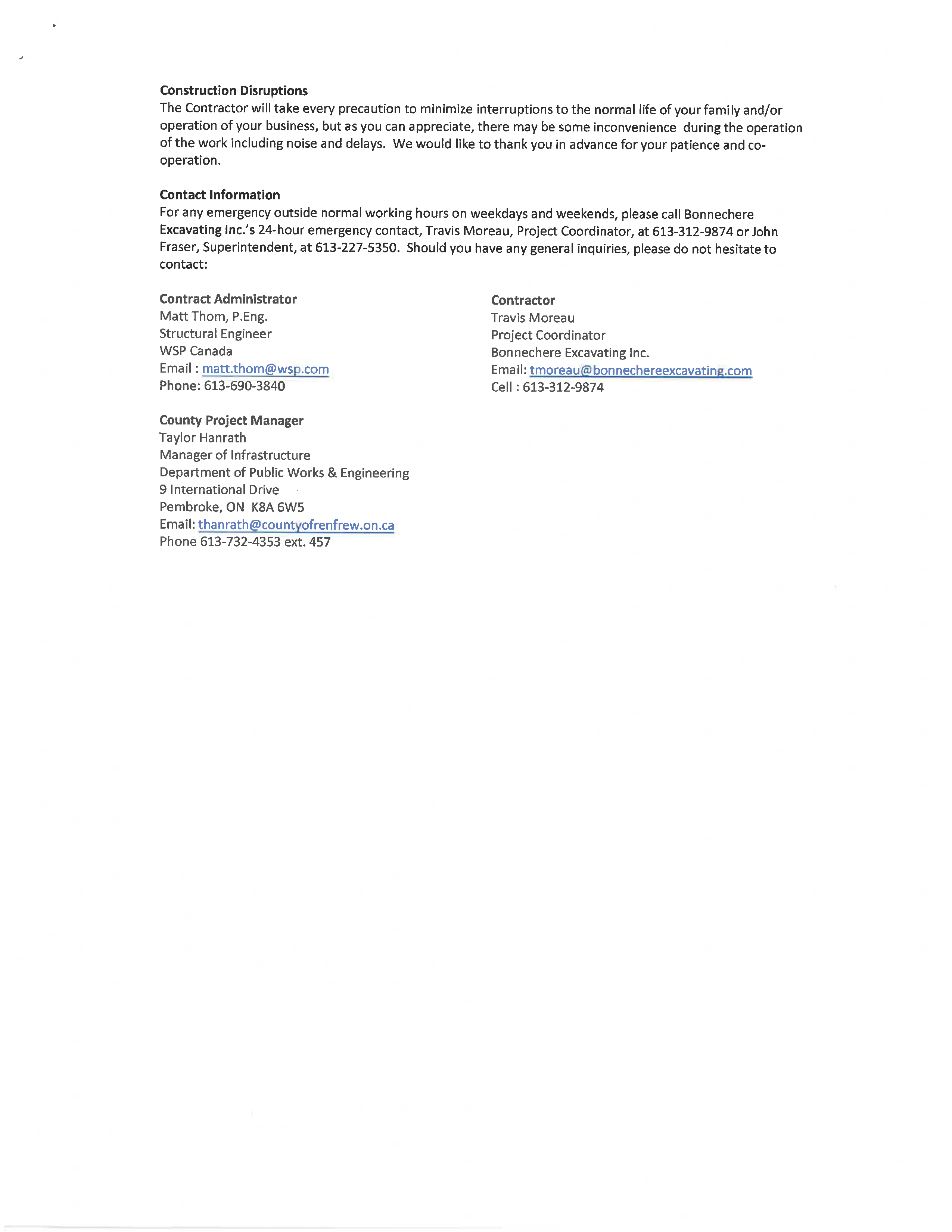 April 13, 2022, The County of Renfrew will be undertaking the rehabilitation of County Structure B203 (Petawawa River Bridge) on Petawawa Blvd. (CR-51), approximately 0.3 km south of Paquette Road (CR-55). The construction project is anticipated to commence shortly on or about May 24, 2022, and is anticipated to be completed in November 2022.

The bridge will be reduced to a single lane of intermittent traffic (alternating directions) for the entire duration of construction and traffic will be controlled with the use of temporary traffic signals at the north and south ends of the bridge. Pedestrian traffic over the bridge will also be accommodated by the use of the existing sidewalk on the east side of the bridge in Stage 1, and a temporary sidewalk on the west side during stage 2 of construction. In addition to the temporary traffic signal and single lane configuration, a short-duration lane width reduction will be required for the installation of important work components. This work will take place at the beginning of construction and will require large vehicles (trucks, busses, etc.) to detour around the bridge. Dates and further details for this truck detour will be provided as soon as they are available.

The General Arrangement and Traffic Staging Drawings are appended to this letter for your information. Please review the drawings and provide any comments related to the presence of the watermains below the deck of the bridge and provisions included in the Contract for their protection during the work. Should you have any suggestions, comments, or questions please communicate these as soon as possible.

These project details have been separately communicated to CFB Petawawa and the local Legion. A letter has also been sent to the Home Front Dental business, located southeast of the bridge.
Proposed Works
Stage 00 – Preparation Works
•
Installation of traffic signals infrastructure (Parthem);
•
Preparation for west (southbound) lane closure;
Stage 01 – West Side of Bridge
•
Closure of west (southbound) lane;
o
Install TCB separators;
o
Asphalt & waterproofing;
o
Scarification of deck & safety curb;
o
Partial & full depth removals from deck, safety curb, & parapet wall;
•
Concrete overlay of deck & Safety Curb;
•
Construction of temporary pedestrian walkway along west side of bridge using safety curb, TCBs, & leveling material (Gravel with either stone dust or asphalt, dependant on accessibility requirements);
•
Construction of hardened surface pedestrian walkway (temporary sidewalk) along west side of Petawawa Boulevard from bridge to Paquette intersection;
•
Construction of temporary pedestrian crossing on Petawawa Boulevard south of the bridge (reviewing distance but preliminarily 100m from bridge);
•
Painting of temporary walkway on west side of Petawawa Blvd. from bridge to pedestrian crossing; and
•
Mobilization to East side.
Stage 02 – East Side of Bridge
•
Closure of east (northbound) lane
o
Adjust traffic signal timing as needed;
o
Initiating pedestrian crossing;
o
Close sidewalk from Paquette to Pedestrian Crossing
o
Move traffic TCBs to new asphalt;
•
Removals (as in Stage 01);
•
Concrete overlay of deck and sidewalk;
•
Removal of temporary pedestrian walkway on bridge;
•
Opening of Bridge & Sidewalk;
Online News Articles