Arena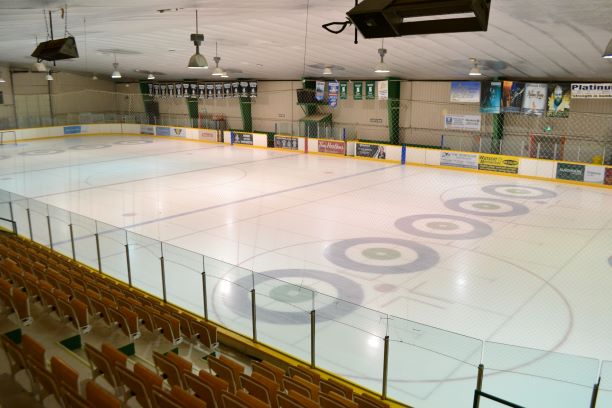 The Petawawa Civic Centre Arena features an 83.5' x 183.5' ice surface. Spectator benches can accomodate up to 656 individuals.

In the winter, ice time is heavily used by local youth organizations, adult seasonal clubs and schools. The Town also hosts leisure skates three times a week and multiple tournaments occur throughout the year.

In the summer, multiple special events are held on the arena floor such vendors shows, sporting events and large reunions.

Advertising spaces are available on the arena boards and walls. Signs are usually 8' x 3' but smaller dimensions are available around the openings in the boards.

Businesses and organizations are invited to sponsor public skating. This can coincide with our weekly skate on Sundays or during an additional time. Download the information sheet below for program details.

For rental, advertising and sponsorship inquiries, please contact:
Community Services Liaison
bookings@petawawa.ca
613-687-5678 ext. 2112

ICE AVAILABILITY
WEEKLY
Mondays (except Jan 13 and dates below):

before 3:30 pm (non-prime)

Monday Feb 10:

before 12:45 am (non-prime)

Monday Feb 17:

before 9:15 am

2:15 to 4:45 pm

(non-prime)

Mondays March 2 & 9:

before 9:15 am (non-prime)

Wednesdays (to Feb 26):
before 9:30 am (non-prime)
Fridays (except Jan 17 and Jan 31 or dates below):

before 10:45 am (non-prime)

Fridays Feb 7 & 21:

before 9:30 am (non-prime)

Weekday afternoons (except Mondays listed above):

generally 1:00 to 4:45;

Thursdays until 5:15 pm

times vary per date

(non-prime)

Weekday evenings:

after 9:30 or 10:00 pm

exact times vary by day & date

(prime)

Saturday evenings (except dates below):

9:45 pm or later (prime)

Saturday evening Jan 18:
7:15 pm or later (prime)
Sunday evenings
8:30 pm or later (prime)