Birthday Party Packages
2021-22 SEASON: We are offering public skating midday during the week (see our Skating page) and private ice rentals are available during the day on weekdays (see our Arena page).

Ask us about our birthday party packages which include food, drinks, and space to accommodate your guests. Packages are available for up to 10 or 25 guests.

Mini-putt Package: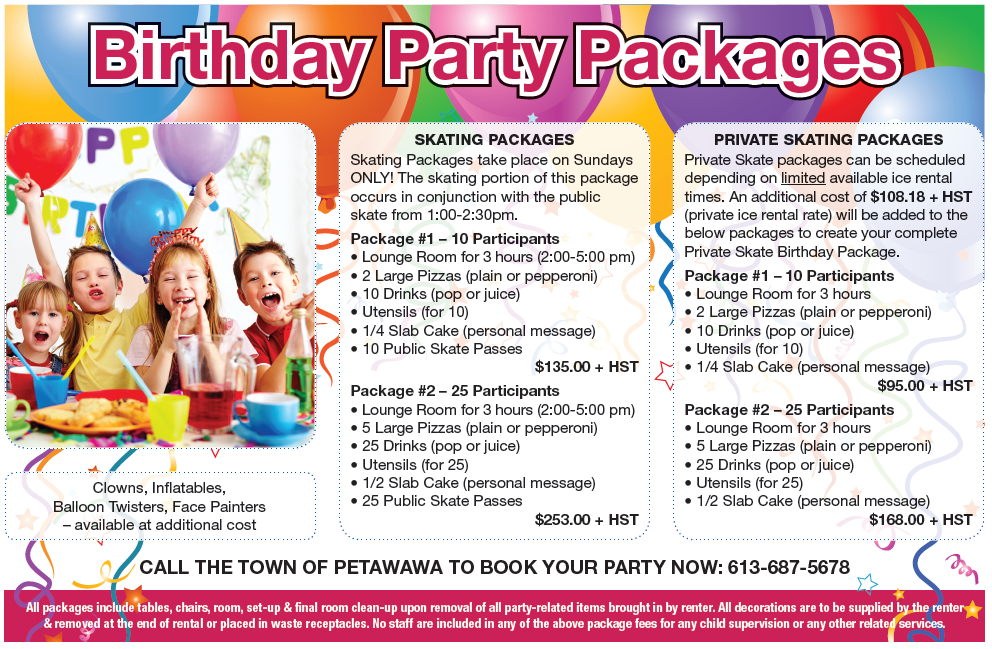 Use of the Kinhut table area for 3 hours (or Lounge if rain)
Pizza
Drinks
Cake
Utensils
Mini-putt passes
10 participants: $115 + HST
25 participants: $228 + HST

Skating Package:
Use of the Lounge for 3 hours
Pizza
Drinks
Cake
Utensils
Public skating passes
10 participants: $138 + HST
25 participants: $258 + HST

Private Skating Package: Due to seasonal ice use, it is unlikely that private ice is available at a time that is convenient for children. Check availability on the Arena page to see if any open times work for you. Fee below is for one hour at 2021-22 rates.
10 participants: $138 + ice rental of $119.27 + HST
25 participants: $258 + ice rental of $119.27 + HST
Additional Options:
Clowns, inflatables, balloon twisters, face painters, etc. may be available at an additional cost.
All packages include set-up of tables and chairs and final clean-up after removal of all party-related items brought by the renter. Access is available up to 30 minutes prior for decorating. All supplies must be brought with you and cleaned-up or removed by you upon departure.

No staff are included in any of the above package fees for any child supervision or any other related services.
Contact us for inquiries and to check availability (required). Then submit the request form below.
Email: recreation@petawawa.ca
Phone: 613-687-5678 ext. 2101