Rotary Boot Sale - Petawawa Container Market
September 2nd, 2023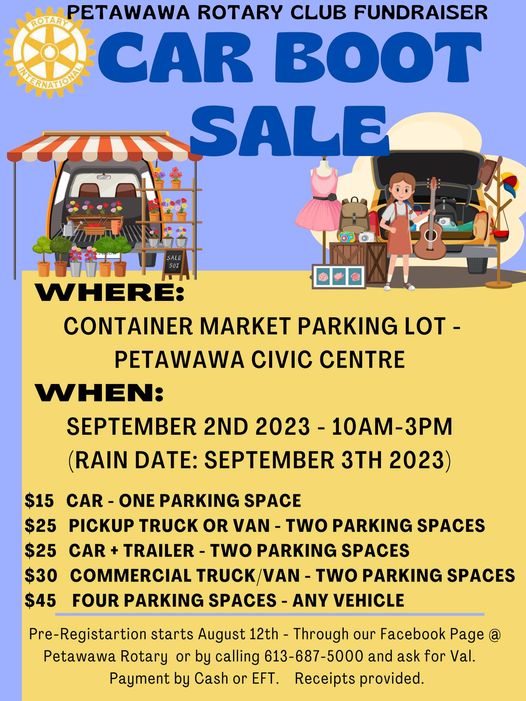 The Petawawa Rotary Club is hosting a fundraising event known as a CAR BOOT SALE at the Petawawa Container Market, 16 Civic Centre.
When: Saturday, September 2nd (Rain Date Sunday, September 3rd)
Time: 10 am - 3 pm

What is a Car Boot Sale? Car Boot Sales are a beloved British Tradition of selling your odds and ends out of the trunk of your car in a large lot or field.
It's essentially a portable outdoor multifamily yard sale! So throw your stuff in your trunk, bring a table or tarp, and set up your spot.
Everyone is Welcome!
For crafters and small business owners, this is a great way to sell off any remaining summer products.

Pre-registration is now open. You must pay for your parking stall in advance.

Where to register and pay?: Register by messaging the Petawawa Rotary Facebook page. Arrangements for payment by Electronic Transfer or by Cash. Receipts will be provided.
What are the fees?:
$15 for a car (one parking space)
$25 for a pickup truck or van (two parking spaces)
$25 for a car with a trailer (two parking spaces)
$30 for a commercial truck or van (two parking spaces)
$45 for four parking spaces (any size vehicle - this is ideal if you have large items for sale)

This is a fundraiser so all the money raised goes to support the worthy causes and work that our local Petawawa Rotary Club does.
For more information or questions call 613-687-5000 and ask for Val or send us a direct message.