Carefor Fundraiser Everyone Deserves a Place to Call Home
October 1st, 2022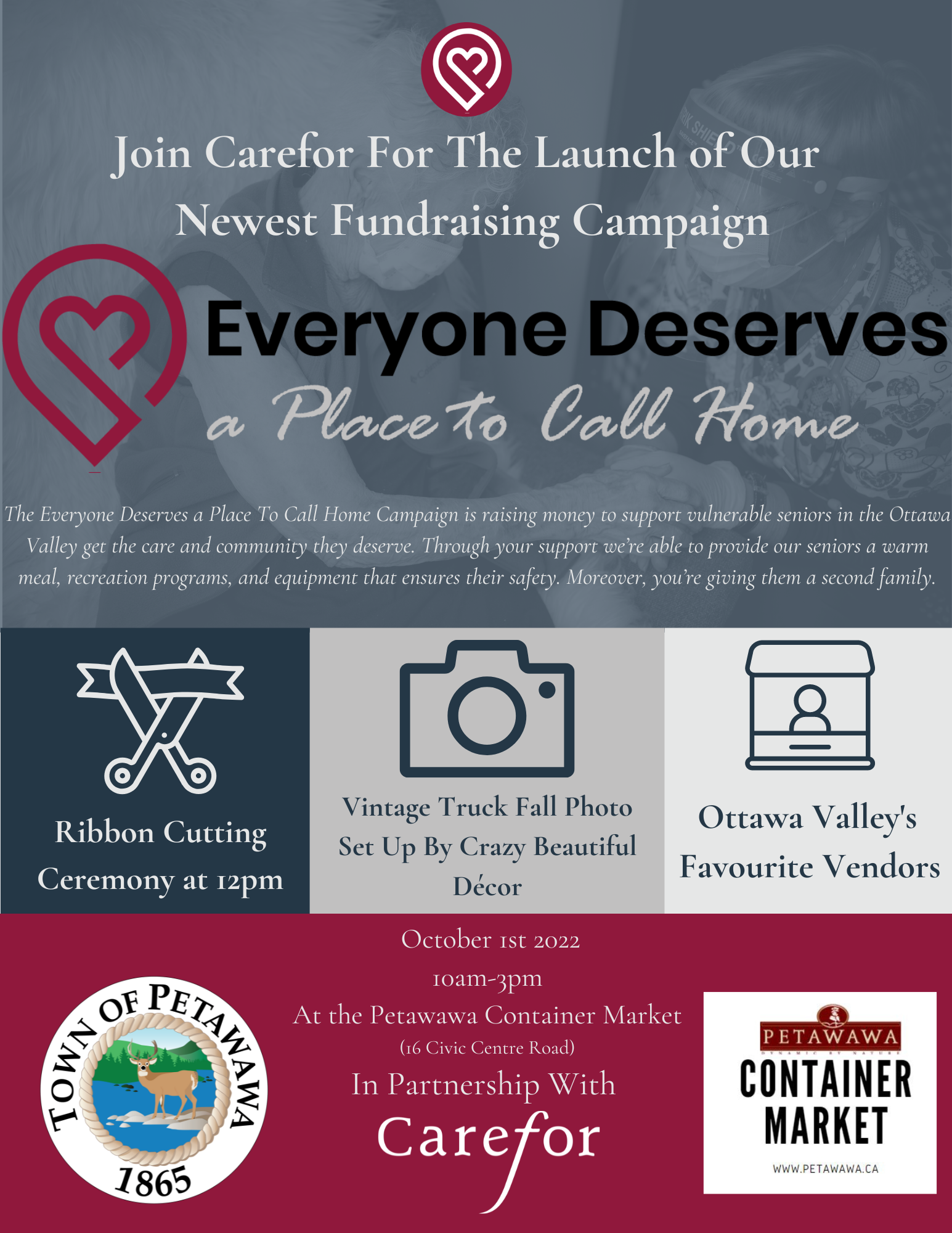 Join Carefor for the launch of their newest fundraising campaign: Everyone Deserves a Place to Call Home Campaign.

When: Saturday, October 1, 2022 (National Grandparents Day)
Where: Petawawa Container Market - 16 Civic Centre Petawawa
Time: 10 am - 3 pm
What will happen: Ribbon cutting at 12 noon, local vendors market, photo sessions, product sampling. Carefor is looking to share information with the community about the many services and opportunities they have for our residents, including our transportation and meal delivery services.
About Everyone Deserves a Place to Call Home
In Renfrew County, 13.6% percent of the population over 65 is considered low-income relative to 5% in the rest of Canada. One-way low-income seniors are affected in our community is through housing insecurity. Carefor's Civic Complex and Mackay Centre remain the two most affordable retirement residences in the Ottawa Valley ensuring low-income seniors have a place to call home.
To maintain its affordability for vulnerable seniors, Carefor leverages its charity status to call upon the support of the community to help keep costs at these homes affordable enough that seniors who are no longer able to stay in their homes have a place to live other than hospital corridors or long-term care homes.
"The Everyone Deserves a Place to Call Home Campaign is making sure seniors have what we all deserve: community, a healthy meal, safety, and recreation," says Sharon Maye, Carefor Pembroke Renfrew County Director of Operations. The campaign will raise money to supplement the cost of these aspects of resident care at Carefor Civic and Mackay, which costs upwards, or $180,000 per year.
More information about this campaign is available at everyonedeserves.ca
About Carefor Pembroke Renfrew County
Carefor is a local not-for-profit charity that provides home healthcare and community support services to seniors and disabled adults. Additionally, Carefor operates two affordable retirement homes in Pembroke Renfrew County. Whether in the home, in the community, at care facilities or in one of its clinics, 1,500 staff are part of the circle of care that is tailored to clients' needs. For more information, visit www.Carefor.ca.