New Year's Eve
December 31st, 2021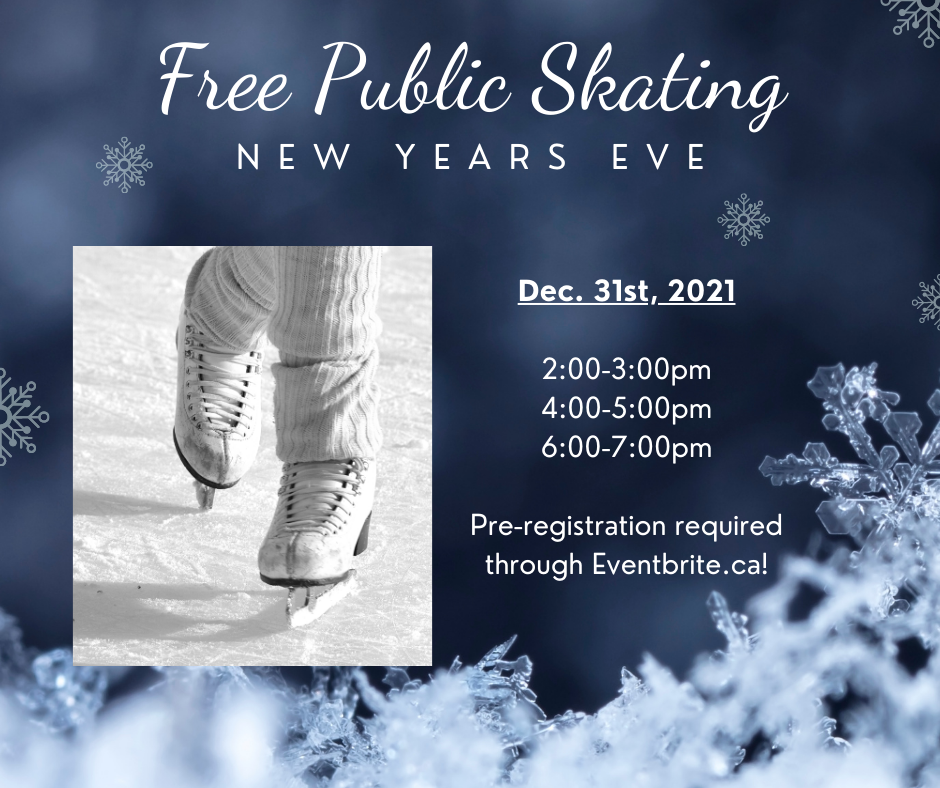 Celebrate a Family Friendly New Year's Eve with the Town of Petawawa. Come join us for free public skating with music, decorations, and a chance to win a $100 gift basket from Looking Glass Toys and Games or the Country Cupboard (1 prize per time slot).
Registration will be done through eventbrite. Please note you must be registered ahead of time and space is limited; there will be no registration at the door.
Entry
Public Skating Patrons must arrive within half an hour prior to the skate time to gain admittance.
Patrons are to enter and exit through the main Arena doors located at the front of the Civic Centre.
All patrons are to enter and exit the facility once. Coming and going during the public skate time is not permitted.
COVID-19 Protocols
• All patrons are expected to answer the self-assessment questionnaire prior to entering the facility.
• Patrons (12 years and older) will need to be fully vaccinated* (two doses plus 14 days) and provide their proof of vaccination along with valid ID that includes the patrons name and date of birth to enter the Petawawa Civic Centre.
• Patrons will sanitize their hands upon entry of the Petawawa Civic Centre.
• Face masks must be worn at all times in the Petawawa Civic Centre – this includes: hallways, washrooms, ice surface and dressing rooms.
• Patrons are to arrive as ready to skate as possible. Patrons are strongly encouraged to only bring a bag sufficient to carry their skates.
Click here for a full list of public skating protocol and rules.
* For more information about vaccination and exemptions please see Renfrew County District Health Unit.
New Years Eve Public Skating Times:
Click on the time of your choice to register through eventbrite.
December 31st 2:00-3:00pm ***FULL***
For more information:
Phone: 613-687-5678 ext. 2102
Email: ccoyle@petawawa.ca