MINDFUL FOREST RETREAT: Connecting to Nature
August 27th, 2022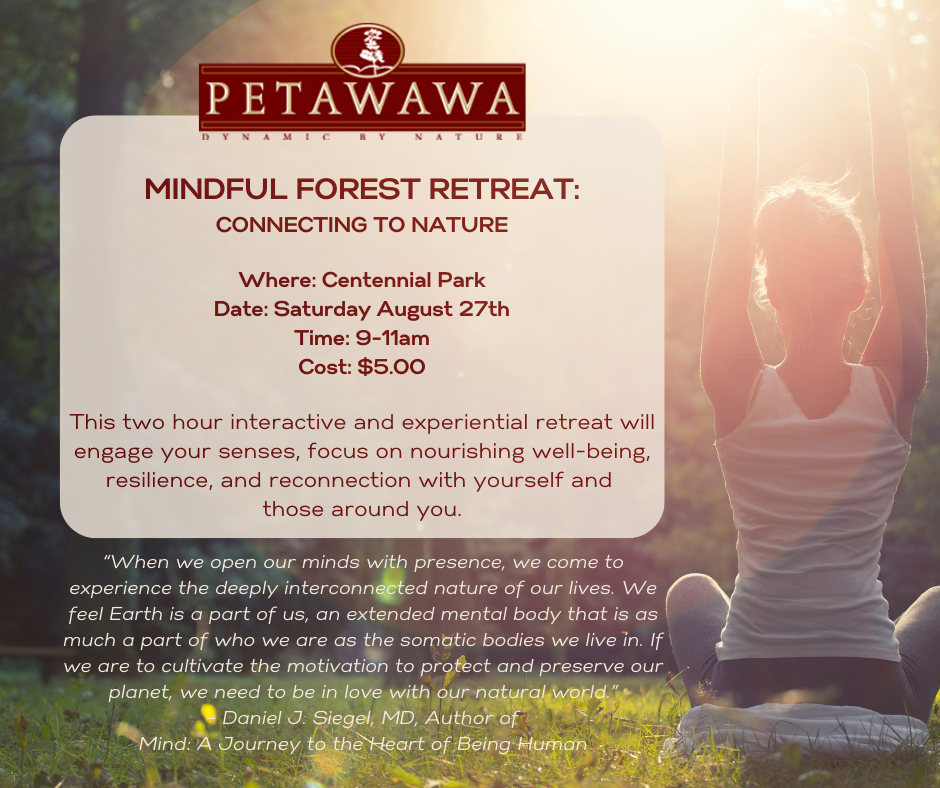 MINDFUL FOREST RETREAT : Connecting to Nature
Are you looking to focus on nourishing your well-being, resilience and reconnecting with yourself, those around you, and nature? If you are, then this is the event for you!
Ages: Adults
Cost: $5.00
Time: 9:00 am
Date: Saturday August 27, 2022 in Centennial Park
Questions: sdament@petawawa.ca or
(613)687-5678 ext. 2103
"When we open our minds with presence, we come to experience the deeply interconnected nature of our lives. We feel Earth is a part of us, an extended mental body that is as much a part of who we are as the somatic bodies we live in. If we are to cultivate the motivation to protect and preserve our planet, we need to be in love with our natural world."
- Daniel J. Siegel, MD, Mind: A Journey to the Heart of Being Human
What to Expect:
We will spend two hours together in Centennial Park engaging in a variety of Mindfulness and Compassion based practices focused on promoting our well-being through interconnection. Mindfulness is a way of paying attention to what is going on inside of us and around us in the here and now. Nature provides a wonderful opportunity to be fully present, to slow down, to pay attention and to connect. Participants will learn ways of attending to their own needs in a kind and caring way within a supportive and nurturing environment.
We will be meeting at Petawawa Centennial Park parking lot (18 Park Drive) and walking together to our designated location. Please arrive 15 minutes early so that we can begin promptly at 9:00 am. We will remain in silence during our time together, coming out of silence only near the end of the retreat.
What to Bring:
A cushion or something comfortable to sit on, including a yoga mat if you have one.
A light blanket or something to cover yourself with for deep relaxation practice and for your comfort throughout our time together.
Comfortable clothing and shoes that you can sit, move around, and walk in.
Dressing in layers is typically preferable to accommodate the temperature of the day.
A water bottle to support your hydration and well-being during our time together.