Petawawa Ramble feat. Pumpkin People



The first annual, Petawawa Ramble in the Town of Petawawa, is a business led, with municipal support, community event. The event is designed to foster economic opportunities for local businesses, encourage civic pride and provide a venue for local community groups to conduct fundraising within a coordinated branded program. The long term objective of this initiative is to expand the festival into a signature tourism event that encompasses a longer autumn schedule and expands on festival activities.

The Pumpkin Characters are part of a self-guided tour, within the Petawawa Ramble, of the local businesses and public areas where unique pumpkin figure displays and vignettes have been created. A print and electronic map featuring all the pumpkin display locations will be available and allow you to meander and ramble around our dynamic community. 2019 Pumpkin display map.

The Petawawa Ramble inaugural year, 2019, will feature, not only the Petawawa Characters, but three (3) main events for residents and visitors to participate in. Each event and venue includes a series of unique activities all within a fall-themed concept that support opportunities for interactive physical movement and rambling within the community.

The Heritage Village will feature interactive displays and activities, pumpkin product market, pumpkin carving contest and musical entertainment on both days. The Saturday evening only, the Looking Glass Toys and Games will animate a modified card game called "Werewolves in the Village". This age of majority event will see participants play out the card game on the full Heritage Village site. Those eliminated from the game can gather for beverage served by the Petawawa Fundraising Committee and scrumptious fare created by J&E's Bored N'Saucy at the General Store.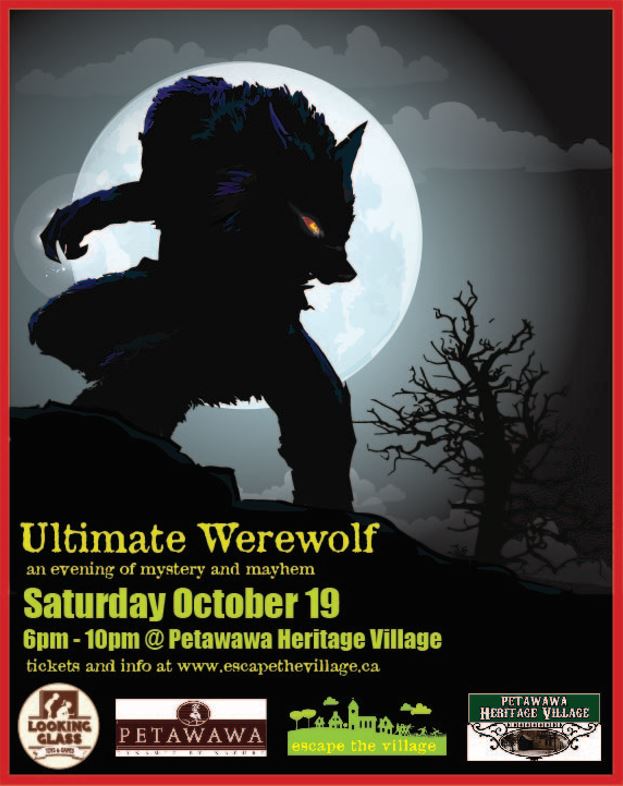 Hyska's Harvest Hoopla will feature a pig roast, live music, step dancing demonstrations, petting zoo, harvest games, butter making, cider tasting and pumpkin pie eating contest during the Saturday of the Petawawa Ramble weekend. The pumpkin patch and some independent self facilitated activities will be available to visitors on the Sunday that weekend.

The Harvest Hike on Saturday will consist of organized bike rides, fat bike and e-bike demonstrations and rides facilitated by Gearheads along the Algonquin Trail. This event will take place from 12-4 with a wrap up live musical entertainment featuring Adam Fieldhouse. On Sunday, from noon until 5 pm, the Harvest Hike will move to the Kin Hut area in the Civic Centre and feature live musical entertainment, a meandering street market with samples and products from various local vendors, harvest games including pumpkin bowling and apple slingshot. New events are being added to this Harvest Hike so keep checking for more.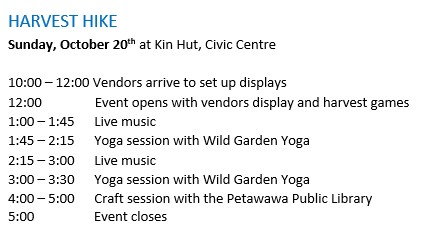 We wish to thank our generous sponsors: Title sponsors for this event are Michelle Letourneau's Mortgage Alliance, Town of Petawawa, Hyska's Your Independent Grocer and the Petawawa Heritage Society.