Cabin Fever
Upcoming:
Next: February 21 2021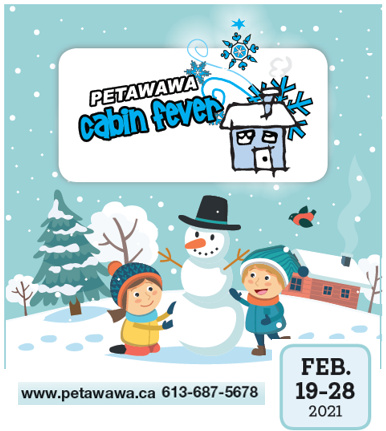 Cabin Fever is set to go ahead with new or modified events!
2021 schedule:

Date
Event
Friday, Feb 19
Virtual Bingo
sponsored by Mike's Hardware
$5 per person
Sunday, Feb 21
Kids Virtual Bingo
sponsored by Jp2g Consulting
FREE event!
Thursday, Feb 25
Public Skate
3:30 - 4:30 pm
sponsored by the Petawawa Public Library
Friday, Feb 26
Virtual Trivia Night
sponsored by Pembroke Mitsubishi
$20 per team / Max 4 per team
Sunday, Feb 28
Kids Virtual Trivia
sponsored by Buske Office Equipment
FREE event!

Registration will be required for all events through Eventbrite. Check each event page for specific information, including instructions to join once you are registered.
The Community Services Department made the official decision to cancel the 2021 Cabin Fever Snow Drag Races for the safety of racers, participants and organizerse. A huge thank you goes out to Shawn Sack, his family and friends who volunteer their time to make this event happen year after year.
We welcome you to take part in other upcoming virtual events as a part of Cabin Fever 2021 and hope you will join us once again in 2022 for the return of the races.
For more information:
Phone: 613-687-5678 ext 2102
Email: ccoyle@petawawa.ca