UOVCC Business Excellence Gala
September 23rd, 2023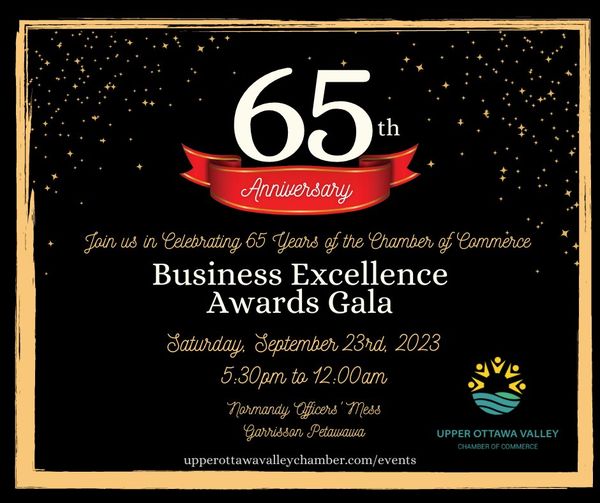 Celebrating 65 years of service, the Upper Ottawa Valley Chamber of Commerce has planned a glamourous evening for Saturday, September 23rd at the Normandy Officers' Mess, Garrison Petawawa, to recognize the accomplishments of the business community in our region.

This will be a night to remember. After the spectacular return of our awards ceremonies last year, we are planning live entertainment, dinner and dancing into the night to celebrate our 65th anniversary in the valley and to recognize our member businesses and their achievements.

The Chamber of Commerce is once again taking a fun, fair and unbiased approach to the awards and judging process using Awardify: a Canadian-owned award management platform. In order to ensure all businesses are viewed on their own merits each member can tell us the story of their business, highlighting their accomplishments and their work in the community, and adding photos and testimonials for our panel of judges from chambers of commerce across Canada to score.

The Upper Ottawa Valley Chamber celebrates its member businesses with awards according to categories of products or services, as well as special trophies for newcomers, solopreneurs, not-for-profit organizations, visionary leaders, and the Lifetime Achievement Award. A complete list of awards and instructions to submit an entry can be found on the chamber's awardify site where chamber of commerce executives from across Ontario and Canada will review and score the entries to select the finalists. Winners will be unveiled at the ceremony. The deadline to submit entries for awards is July 31st.

Click on any of the following links to support this event