Travel with the Chamber
November 1st, 2023
Travel with the Chamber!
Take this opportunity to expand your business network with our connections to Chambers of Commerce in the region, purchasers and distributors. Learn from culinary experts, artisans, and owners. Make this an adventure for both business and pleasure!

WHEN: Join us at the Quality Inn and Suites Petawawa on November 1st 5:30 - 7:00 pm to learn more!
RSVP: Travel with the Chamber: Egypt Adventures (upperottawavalleychamber.com)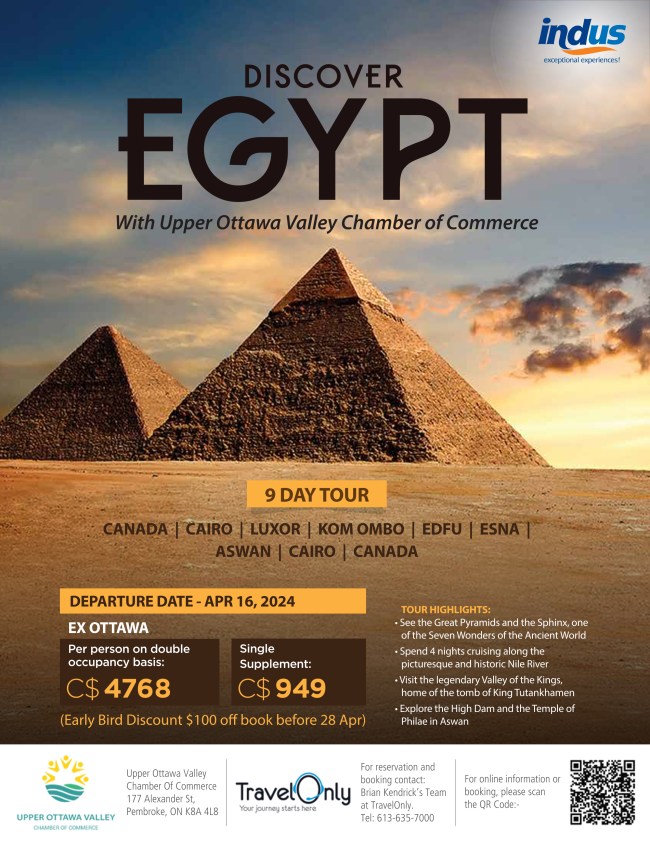 Discover Egypt begins in Cairo and takes you to the ancient city of Luxor, where you embark on a relaxing four-night cruise up the Nile. You will have plenty of time to explore the stunning Valley of the Kings and the Temples on the East Bank, including Karnak and Luxor Temples. During the cruise, you can enjoy several shore excursions to see some fascinating historical sites. Arrive in Aswan and explore the High Dam and Temple of Philae. Fly back to Cairo and spend a full day with a certified Egyptologist exploring the Pyramids at Giza and have the opportunity to visit the incredible Egyptian Museum. The tour ends in Cairo.