NEW Service Concierge Workshops - Merchandising and Consumer Behaviour
February 27th, 2023 to March 1st 2023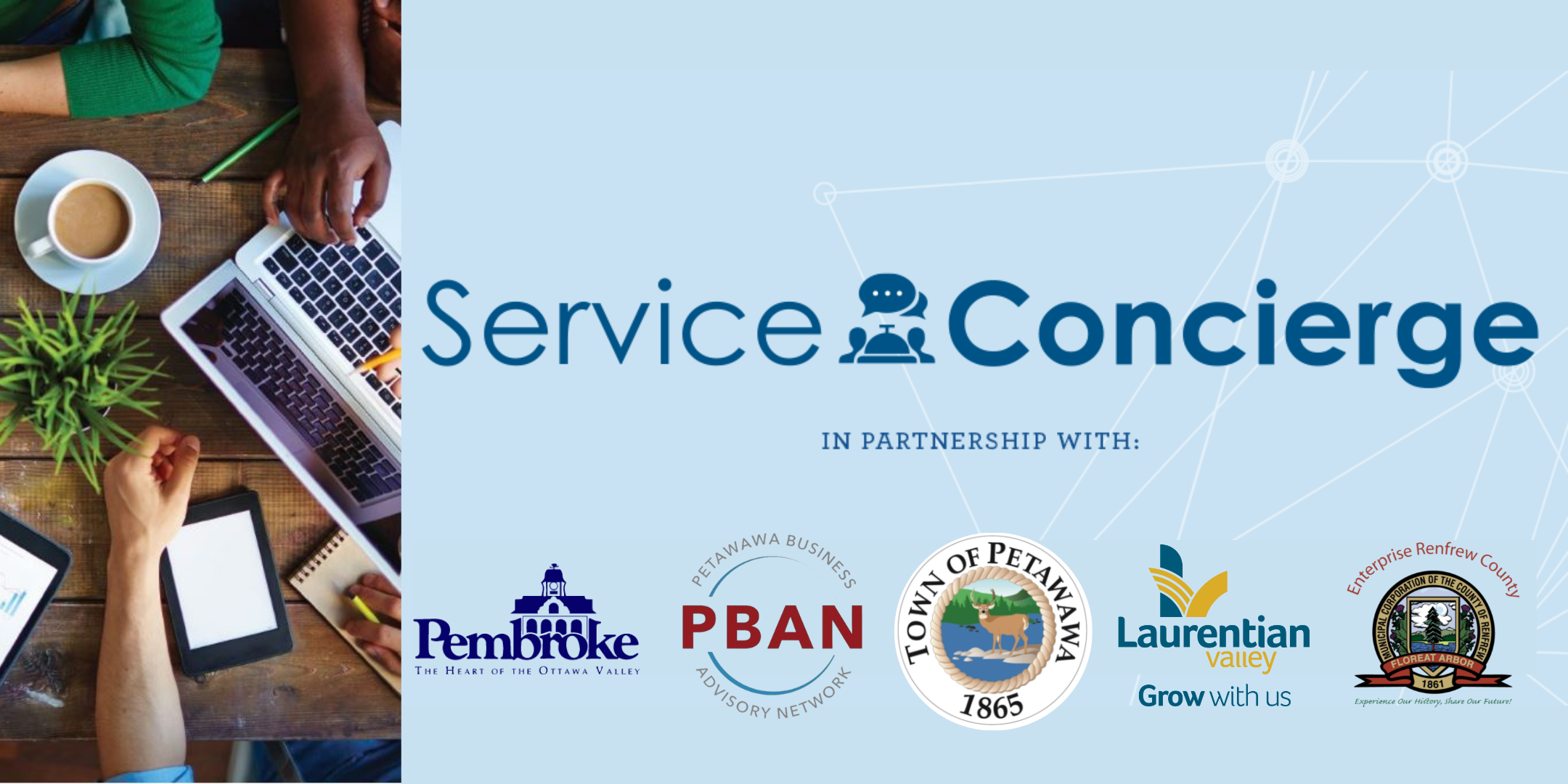 Petawawa, ON – The Town of Petawawa, City of Pembroke, Township of Laurentian Valley, and Enterprise Renfrew County are pleased to announce they will be hosting the final series of business workshops under the Service Concierge banner.
The final series on beautification is coming up in February, 2023. This series is all about merchandising and consumer behaviour in the physical environment. Join specialist Carey McMaster of TRAICON as she delivers a 4-part program tailored to our service industry. Learn how first impressions go a long way for your business and how branding your storefront creates a positive consumer experience.
The series will be offered over 3 days in a mixed format and registration for the program provides participants access to each session offering. The sessions are broken down into:
Monday, February 27th: (In-person or virtually)
Part 1: Storefront Beautification
This workshop will look at how in business, first impressions really count – especially in today's retail environment. Retailers expend a great deal of brainstorming and budget to create on-brand experiences inside a store but miss opportunities existing outside the front door. Boost your business' curb appeal to take control of first impressions.
Part 2: Merchandising
Merchandising is a proven, effective way of increasing sales in your retail store. And all it requires is forethought, preparation, and a thorough understanding of customer behaviour. It is how products in a store are displayed and presented in order to encourage customers to buy. This includes shelf layout, promotional signage, foot traffic paths and pricing.

Merchandising is important for retailers looking to cultivate their brand, improve the experience of customers, compete with others in the sector, and drive sales.
10 am arrival and networking
10:15 Intros and brief on CIP program opportunities from each community
10:30 - noon Session 1 – StoreFront Beautification
12:00 (1 hr) lunch and networking
1:00 – 2:30 Session 2 – Merchandising
2:30 – 3:00 wrap up and networking
Tuesday, February 28th: Consumer Behaviour
(virtually only) 12:00 - 1:30 pm
Understanding consumer behaviour is important for businesses because it can help them to make better decisions about their products and services. By understanding why people purchase certain products and how they use them, businesses can adapt their offerings to better suit the needs and wants of their target market.
Wednesday, March 1st: Brand Identity
(virtually only) 12:00 - 1:30 pm
Branding ensures you have a prominent position in the marketplace and gives your company personality and meaning. Brands affect buying behaviour by fostering loyalty and ongoing sales. Over time your brand becomes associated with a level of credibility, quality, and satisfaction in the customer's mind.
A unique brand can have an enormous impact on your bottom line by giving you a competitive advantage over your rivals and helping you acquire and retain customers.

Participants must register and pay the workshop fee in advance. Workshop fees are $30 plus HST and any applicable online processing charges. Registrants will receive access to all three days and the four sessions being offered. Lunch and snacks will only be provided to those attendees who opt to participate in person during the February 27th workshop. Registration is through Eventbrite. Space is limited to 40 participants so register early.
For further information, contact:
Christine Mitchell,
Economic Development Officer, Town of Petawawa
613-687-5536 ext. 2021
cmitchell@petawawa.ca

Angela Siebarth,
Economic Development Officer, City of Pembroke
613-735-6821 ext. 1500
asiebarth@pembroke.ca
Katie Tollis,
Community Development Officer, Township of Laurentian Valley
613-735-6291 ext.208
ktollis@lvtownship.ca