Enterprise Renfrew County Workshop
Upcoming:
Next: July 08 2021
Taking Control Of Your Future Workshops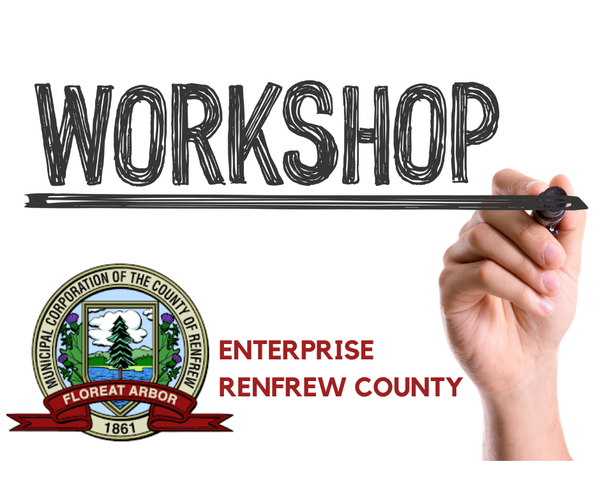 Workshops are presented by: Karen McDonald Hurley of Opportunity Group.

Dates: June 24th (Thursday) July 8th, 15th, 22nd, 29th. All sessions take place on Thursdays
Time: 10:00 - 11:30 AM
Space is limited, so register early so you are not disappointed.
**Due to July 1st holiday you will have to register twice if you plan on attending additional workshops.

You will be redirected to Zoom to fill out a form. Your application will be reviewed, if clarification is required you will contacted by the Business Consultant. You will be notified if you have been approved to join the session/s.
Taking Control of Your Future is a series of five workshops on various business topics. These workshops are independent of each other. When you register you can choose how many workshops you would like to attend.
These 90 minute sessions are hands-on with takeaways you can apply instantly to your business operations.
Participants will be asked to work through the hand-outs provided.

Workshop #1: Thursday June 24th: VIRTUAL REFRESH
Refresh and update your business plan using The Business Model Canvas. This will deliver more insights about your customer, how you will make money, what you are offering, and community collaborations. You will revisit, define, and align your goals and activities.
Workshop #2: Thursday July 8th: UNCOVERING YOUR COVID OPPORTUNITY
The impacts of COVID-19 are here to stay and it is essential that you pivot to this new normal - but what does that look like? Learn more about consumer trends,the changing economic landscape, and where are the "now" opportunities?
Workshop #3: Thursday July 15th: CASHFLOW - REMOVE THE BANDAID
Take a closer look at your business finances and complete a 2-year cashflow plan. Learn to calculate the effects of capacity restrictions, new revenue streams, and opportunities including grants, loans, and deferrals. Find out what your "bottom line" is.
Workshop #4: Thursday July 22nd: RELEVANT ADVERTISING AND PROMOTION
How your customer is receiving information has changed as some traditional methods have disappeared. In this workshop, you will update your 12-month advertising and promotion plan deciding on what advertising methods you will use, as well as the most effective method for the best return on your investment.
Workshop #5: Thursday July 29th: COVID-19 BUSINESS RESPONSE CANVAS
How will you move beyond COVID-19 and measure your performance against competitors? This workshop will help you examine the problems you face, to begin to create solutions to plan for the future. Moving beyond the pandemic, you will decide, prepare, and be ready for what your future will look like.