Resilience and Innovation Networking Breakfast
June 24th, 2022
Networking breakfast in partnership with the Upper Ottawa Valley Chamber of Commerce, Algonquin College Waterfront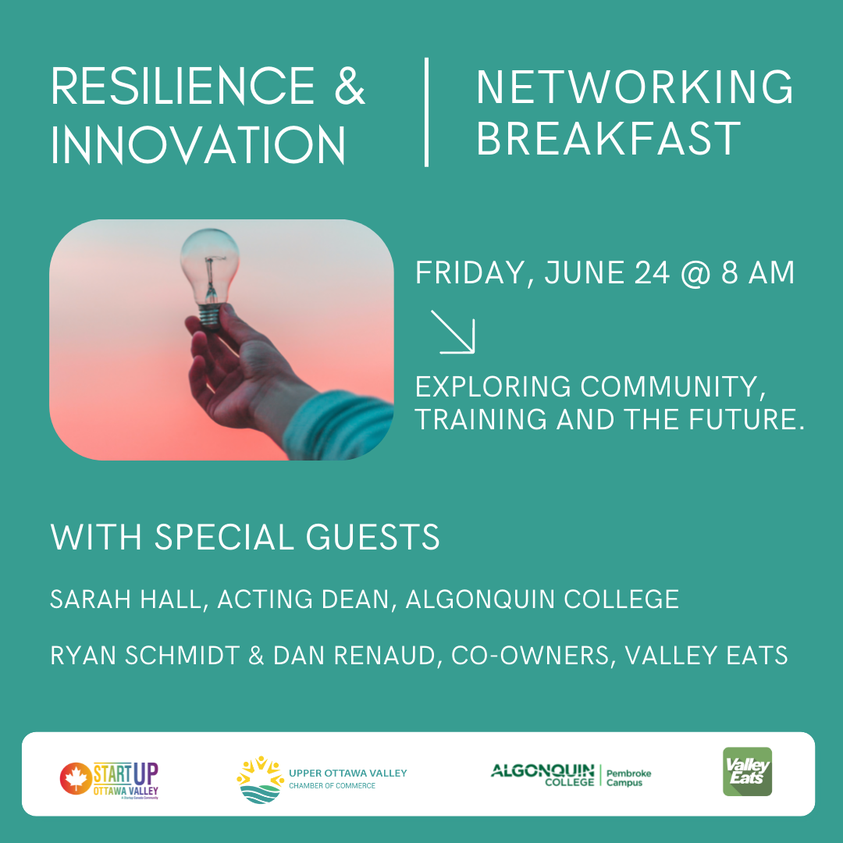 Campus, and ValleyEats focused on resilience and innovation in community, training and the future post-COVID.
The networking event is an opportunity to reconnect with the business community, discuss what we learned over the last two years and how that will propel us into the future.
When: Friday, June 24, 2022
Time: 8:00 am - 9:00 am
Where: Algonquin College - Waterfront Campus Room 429/430, 4th Floor.
Cost: $10/person for Chamber members
$15/person for non-Chamber members
Tickets: https://bit.ly/3Mealnc.
Agenda
7:45 - 8:00 AM: Registration, continental breakfast, and networking
8:00 - 8:05 AM: Welcome
8:05 - 8:40 AM: Acting Dean, Sarah Hall on Educational Resilience in Challenging Times
8:40 - 8:55 AM: Valley Eats, Ryan Schmidt and Dan Renaud, Co-Owners
8:55 - 9:00 AM Closing and networking
Register today!