Sunny Side Up Breakfast Buffet - A new breakfast service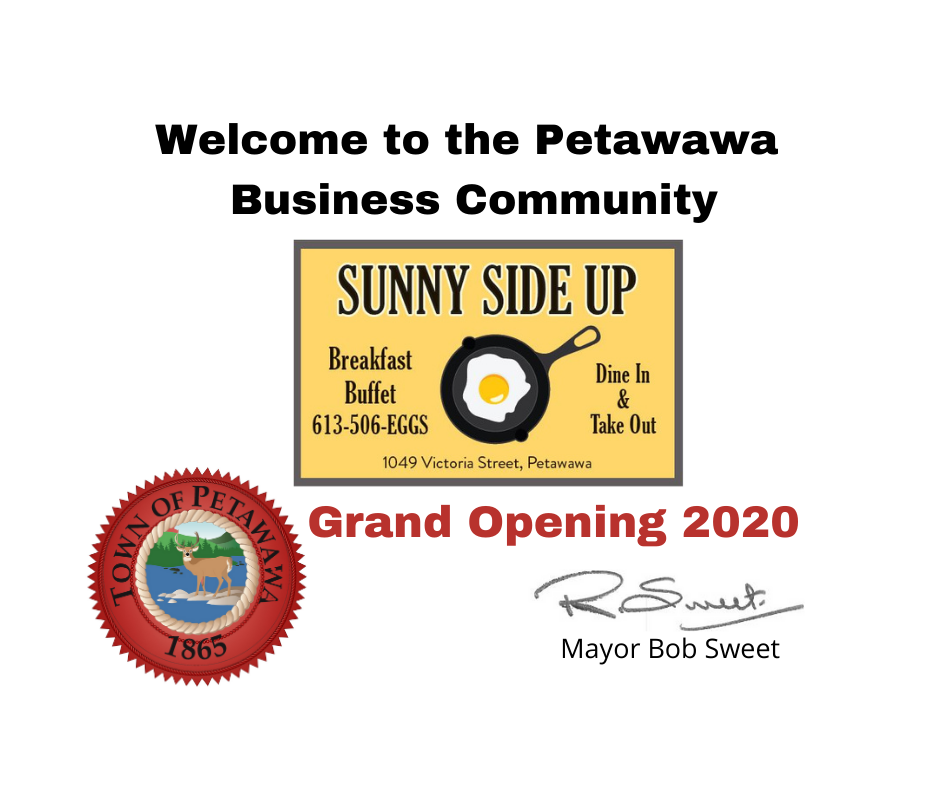 November 2020 Petawawa, ON – A Grand Opening event planned for March 26th, 2020 was abruptly halted due to COVID-19. For the business owner, April Harrison, having just opened this new buffet breakfast service, the declaration of the pandemic could not have come at a worse time. Fortunately, April's passion and drive to succeed, fueled her to be creative, pivot and, find new ways to attract, engage and serve her customers.
Starting off strictly as a breakfast buffet service, featuring food options including keto, vegan and vegetarian selections, along with hearty traditional Canadian fare, April quickly developed a collaboration with Valley Eats, a local food delivery service, to get breakfast fare delivered directly to consumers. April also sought approval for a temporary patio to accommodate guests wanting, at the site, dining and began working on a plan to fill a need in dinner service, which left a void when Danny's Restaurant, a local eatery, was devastated by fire.
Today, Sunny Side Up offers breakfast plate service, daily lunch specials, and Friday and Saturday evening prime rib dinner options. Having also obtained a liquor licence, this little diner features products from local craft brewers. Sunny Side Up actively participates in and supports the community. They donated turkey wheel meals to OPP working during Thanksgiving, have offered free breakfast vouchers and deep discounts to serving military members, and are now a drop-off location for Petawawa Pantry food donations and toys for Bernadette McCann House.
This local small business seeks to continue receiving the generous patronage and support of the community.
March 2020 Petawawa, ON – A new breakfast option is now available in Petawawa, thanks to owner April Harrison. Sunny Side Up Breakfast Buffet seeks to provide a dine-in or express take-out breakfast service featuring a fresh buffet and ready-to-griddle foods. Food options will include keto, vegan and vegetarian selections while also providing traditional hearty Canadian fare.
Seeing a void in the traditional breakfast service model, in Petawawa, has spurned April's passion to provide a service alternative. It has always been a dream, of this mother of four, to own her own restaurant. April has worked in the hospitality industry and in the health and palliative care sector for the better part of her working career. April has strong ties to the military community, her son is a serving member, and seeks to provide them with a breakfast service that meets their unique training and work schedule. April has future plans to expand her services into catering and custom meal orders. For the moment however, she will focus on bringing her dream to life and getting this quaint storefront ready for customers. "Dreams do come true", says April.

Sunny Side Up Breakfast Buffet is located at 1049 Victoria Street and will operate Tuesday through Friday from 6 am to 2 pm and Saturdays and Sundays from 7 am to 3 pm.