Mount Molson Dairy Bar - Grand Opening Celebration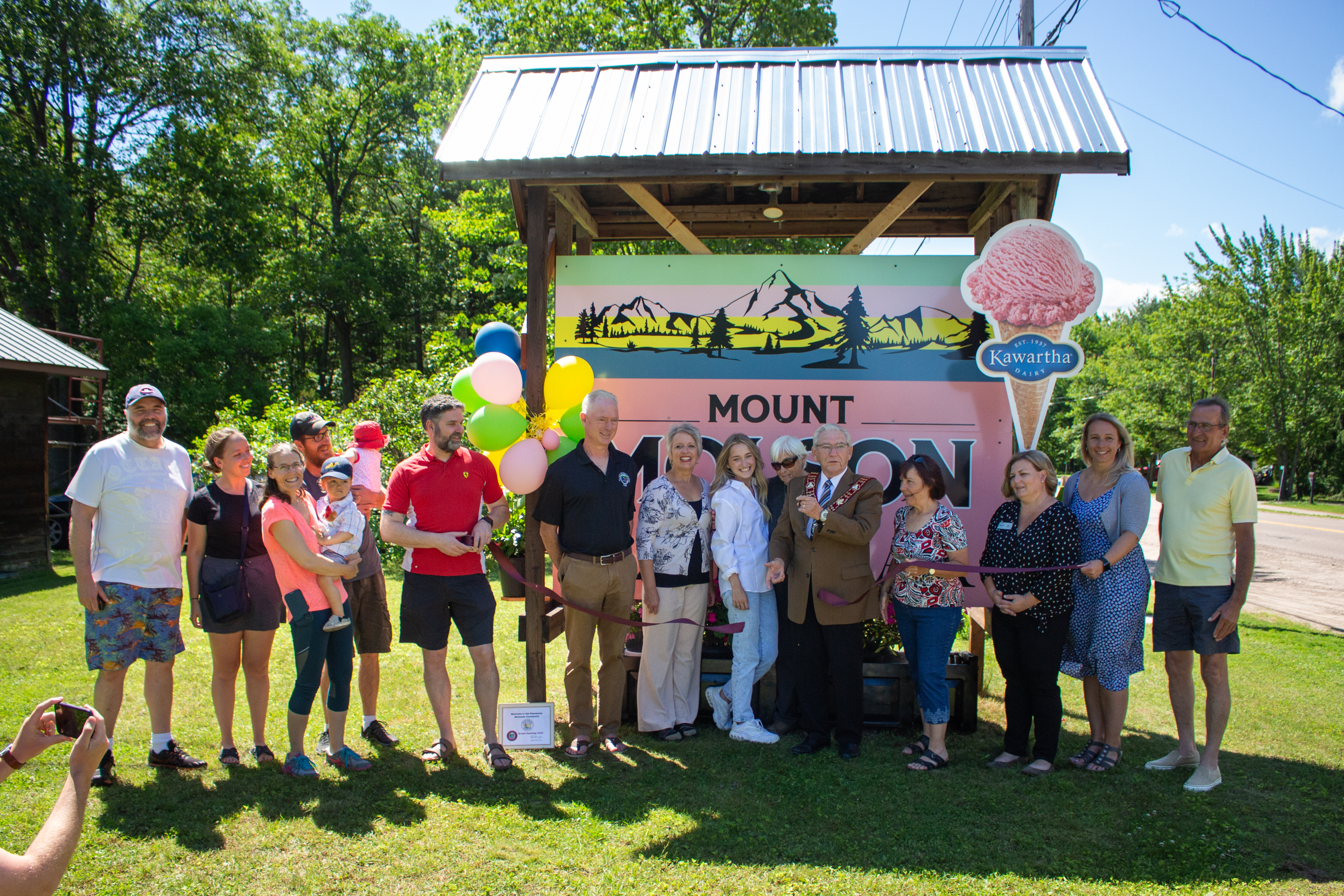 June 23rd, 2022 - Members of Council, the Business Advisory Network, along with family and friends gathered today to celebrate the Grand Opening of Mount Molson Dairy Bar. Four generations of the Molson family were present, along with members of Council, Petawawa Business Advisory staff and the media. Zoe and Tanya Nolan were thrilled with the success of the venture and look forward to serving the community one scoop at a time! As Tanya said, "her days are filled with smiles and thank yous as everyone is just happy when they have ice cream enjoying an unparalleled view."
The event was blessed with lovely sunny weather, thank you Fred, to show off to perfection the beautiful view from Mount Molson. Attendees sampled cake and of course delicious Kawartha Dairy ice cream!
---
Petawawa, ON – Mount Molson Dairy Bar was a longstanding dream made into reality. A dream of the late Fred Molson come to life through his granddaughter and daughter. Zoe and Tanya Nolan officially welcome you to join them on Thursday, June 23rd at 11 am at 536 Laurentian Drive Petawawa as we celebrate this business opening and host the official ribbon-cutting ceremony.
Fred Molson, proprietor and owner of the Mount Molson ski hill ran the Petawawa Ski Club on his property for 59 years. Fred had always wanted families to be able to enjoy the view of the Laurentian Mountains year-round. In the spring of 2021, Fred's granddaughter Zoe, approached him to discuss the possibility of using the chalet and converting it for the purposes of a take-out ice cream service. Fred fully supported Zoe in her entrepreneurial enterprise, proud of her enthusiasm. Zoe certainly had the industry knowledge having previously worked for seven years at the Scoops in Pakenham.
As a mother-daughter venture, Mount Molson Dairy Bar, serves a great selection of all the best Kawartha Dairy ice creams, with new flavours continuously being introduced. They also serve select flavour milkshakes and recently introduced a new sampler flight of ice cream flavours, which they have called "The Algonquin", named after Algonquin Park.
Zoe and Tanya invite you to come by, enjoy a scoop, and continue to make great memories with your family on top of Mount Molson!