H&H Construction Landscape Depot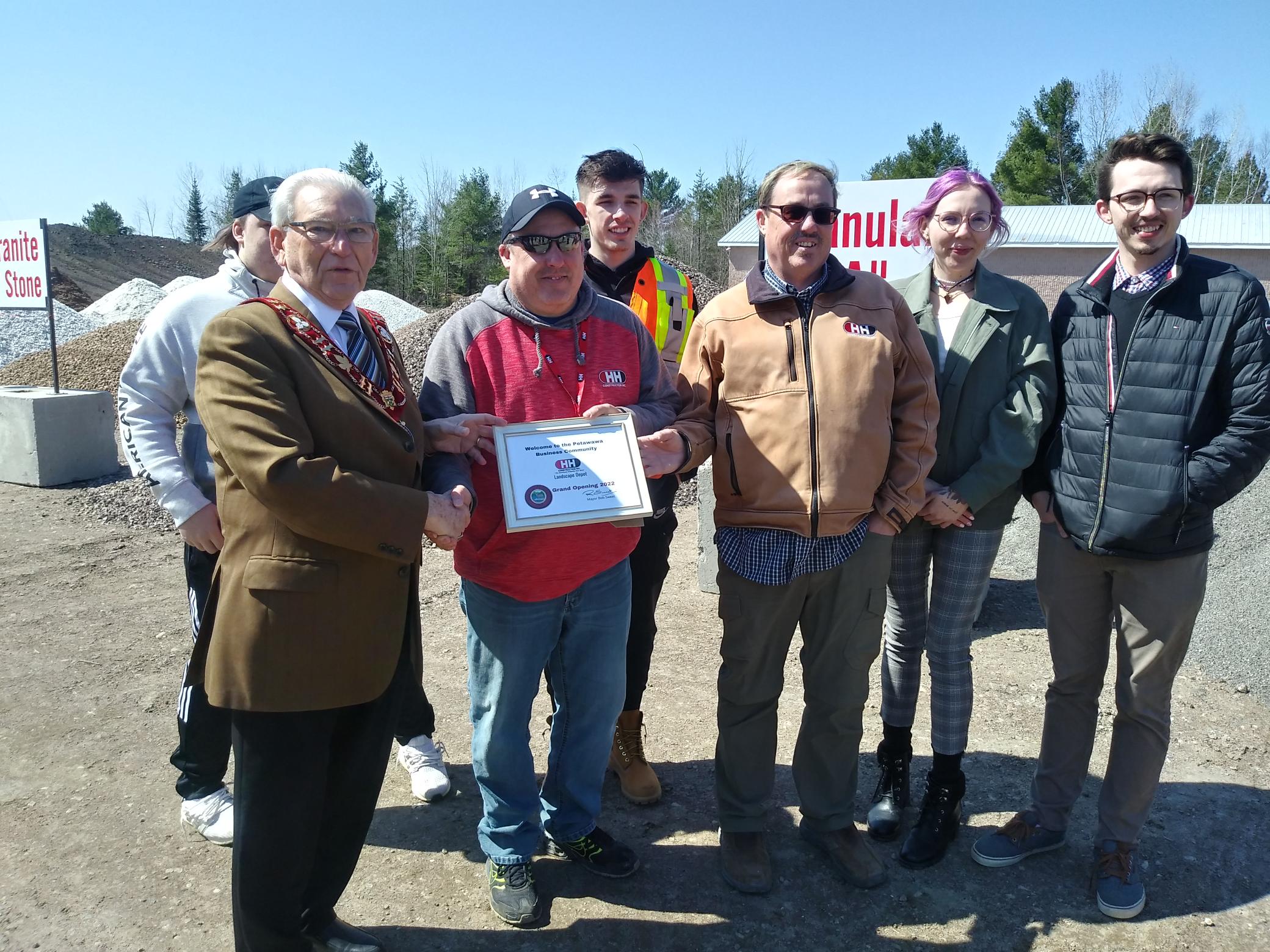 April 29th 2022, Gerald and Dustin Hoffman along with their children, Petawawa Council, and members of the Petawawa Business Advisory Network (PBAN) were on hand to officially open the H&H Construction Landscape Depot at 581 Doran Road. This industrial site has been in the Hoffman family over the years hosting one business or another. It now becomes a consolidation of their aggregate program, a place to safely store and sell the products, or most of the products that H&H Construction produce out of their quarries. The only product that is outsourced is the landscaping mulches. The public is welcome to attend the site and arrange to purchase bulk landscaping materials to haul away or have delivered.
Petawawa did not have a service for this line of products previously and so this business is a welcome addition to serve the residents of our community.
Background
First started in 1948 by Gordon Hoffman and his son Gerald, Hoffman Concrete Products quickly expanded within Petawawa and area. Later becoming H&H Aggregates, and with the acquisition of other businesses such as Markus Construction, the company grew and in 2002 amalgamated into what is now known as H&H Construction Incorporated.
Owned and operated in Petawawa by the Hoffman family for almost 75 years, the company now offers a variety of construction services. Throughout the years they have maintained core values – provide quality service to their customers, help their community grow, and strengthen their company with continued investment into our team of 100+ employees.
At H&H Construction, they know that a business is only as strong as the community around it. They take great pride in where they come from and strive to give back to our community whenever possible. H&H Construction has consistently donated to local groups such as the Renfrew County OSPCA, the Petawawa Horticultural Society, and the Petawawa Civic Centre, as well as sponsoring the "Carl Larocque Memorial Bursary" at Valour School for the past 8 years.
Over the years H&H Construction has consistently evolved to meet the needs of the growing community. As a locally owned and operated business, they are committed to providing the highest quality services to everyone within our region. H&H Construction has the capability to cover the entire construction process independently, giving them a distinct advantage over other similar construction businesses.
The main office for H&H Construction is on Portage Road in Petawawa. They have multiple additional sites across the Ottawa Valley from which their services include concrete, paving, civil works, aggregate production/sales, and more. H&H Construction is well known for its Aggregate Manufacturing services. They produce top-quality products at their own sites using raw materials, which are tested at our on-site Quality Control facility. These products go on to be used in their projects, as well as being sold to local customers and beyond; with a
specialty in custom aggregate production, H&H Construction provides aggregates to customers across Ontario, Quebec, Eastern Canada, and even the USA.
Its newest location at 581 Doran Road in Petawawa also has a history in our community. Formerly known as Hoff-Crete, the site stored and sold concrete blocks for over 50 years. H&H Construction has given new life to this location, now known as the H&H Construction Landscape Depot. At this site, they offer the sale of their custom-made aggregates to
the public, as well as a variety of locally sourced mulches and stones. With this expansion of their company, they are happy to offer a new level of service to the town and look forward to growing with our community in the years to come.