Sign By-law - Draft of Sign By-law 2022
Upcoming: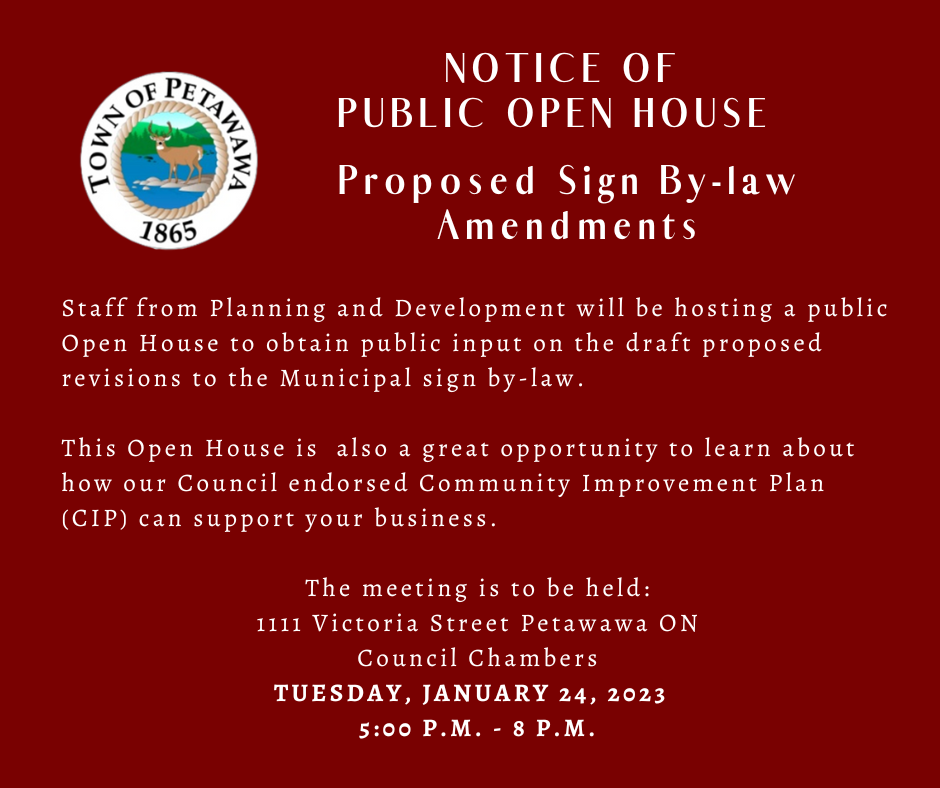 January 25, 2023 Update: Thank you to everyone who provided comments and attended the Open House regarding the proposed Draft Sign By-law revisions. The document is now being reviewed and revisions, as appropriate, are being investigated prior to the final Sign By-law coming to Council for endorsement.

---
Planning and Development staff have worked with WSP to update our municipal Sign By-law.
On Tuesday, January 24, 2023, staff will facilitate an Open House at 1111 Victoria Street, Council Chambers from 5 pm - 8 pm where businesses, commercial property owners, and the public can gather to provide input and comment on the proposed changes to the Sign By-law.
Here is an overview of the proposed changes to this By-law. To review the current and the draft proposed By-law please see the documents in the files below.
Overview of proposed changes to the Sign By-law:
General - rescinds By-Law 794/12 and 852/13 to consolidate the Sign By-Law into one document.
Purpose - provides an enhanced definition and language about the intent of the By-law.
Definitions - a more comprehensive and complete set of definitions is provided.
General Provisions - the introduction of permission to install signage at the front lot line subject to the installation not affecting traffic sight lines and with Town and County approval.
Legal Non-Conforming - a clear definition of this term, when it applies, and when such provisions would expire.
Maintenance of Signage - gives clear timelines and expectations for sign condition, maintenance, and removal.
Site Plan Control - this section outlays that all sign provisions can be altered, modified, or adjusted by Site Plan Control.
Prohibited Signs - provides a more specific list of signs not permitted in the community
Table of Sign Permits - has been adjusted for easier reference and designation
Sign Permit - process and fee structure defined, including noting that building permits may be required for specific signage with clear parameters.
Administration and Enforcement - the Chief Building Official and/or designate is responsible for administrative and enforcement authority of this By-Law. This section lays out the responsibilities, definitions of signs in violation, and the process of obtaining a minor variance as well as enforcement of the By-Law.
Recovery of Expenses - this section details the processes for violation or infraction payments and collection.
Schedule A - is the Set Fines Under Part 1 of the Provincial Offenses Act.