Petawawa Council Giveaway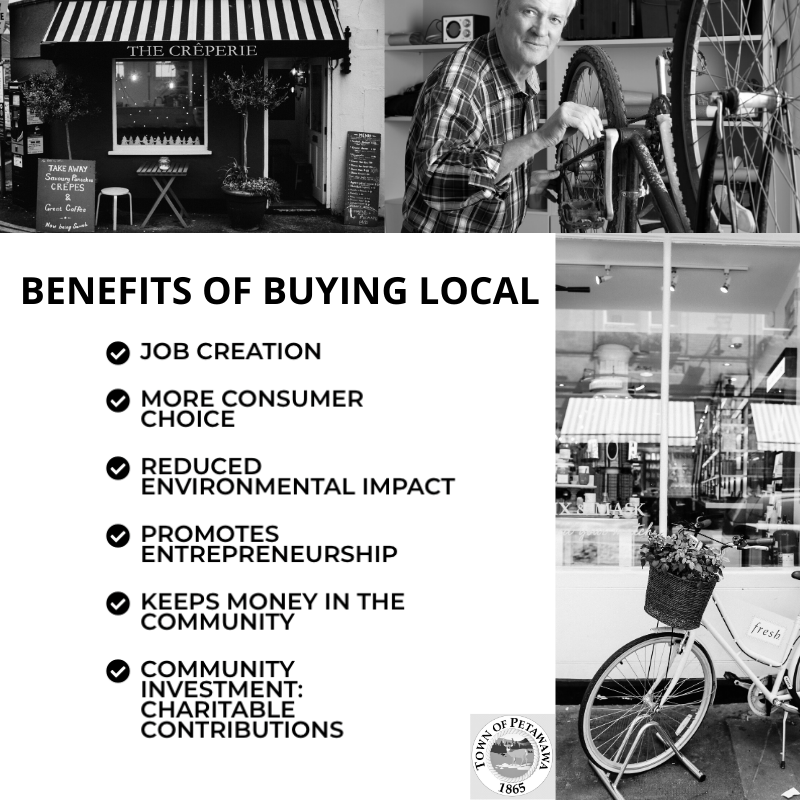 The Petawawa Council Giveaway is an opportunity to enhance "The Big Spend" concept which encourages local shopping and recognizes the value that small businesses have in our communities. This contest is designed to promote and bring awareness to our Petawawa businesses.
For the week of this promotion, select Council representatives will share a brief story about their leisure activities and highlight certain industry sectors. Participants in the contest will be asked to name Petawawa businesses within identified sectors from which they would like to win a gift certificate. Each post offers a giveaway of up to $200 in gift certificates. Randomly selected winners will receive gift certificates or vouchers from Petawawa businesses identified in their response. A total of $1,400 will be spent to purchase these gift certificates/vouchers to be won over the seven (7) days of the campaign.
If you are not familiar with commercial Petawawa businesses in some of the identified sectors, you can review our business directory. We have so many wonderful businesses it's a great time to get to know them.

Who can participate?
This contest is open to anyone who can provide a valid response on the PBAN Facebook or PBAN Instagram pages.

What will I win?
Gift certificates will be purchased from Petawawa businesses based on the winning entry's identified responses. Winners will receive the gift certificates through the mail following the August 12th announcement date.

When is the Giveaway?
The Giveaway will begin on Saturday, July 25th in support of the @The Big Spend (#TheBig Spend). We encourage everyone to support this initiative and shop locally on this date. There will be a daily post thereafter with a final post on Friday, July 31st. A total of seven (7) opportunities to participate!

How to participate to win?
The PBAN Facebook account @Petawawabusinesses and the PBAN Instagram account @Petawawabusiness will release a daily post at 9:00 am. Participants must respond before the end of the campaign to be considered in the random selection. All responses have to be posted in the comment section of the daily post on the PBAN Facebook page or the PBAN Instagram account.
There is an opportunity for two friends to also win if you share the post with them and they respond to your comment with valid responses (see how winners will be chosen for more details).

You can play as a team to win these certificates, since you are required to share the post and have your shared contacts also participate and you can arrange this collaboration in advance.

How will winners be chosen?
The winners will be selected randomly from eligible participants.
To be eligible to win $100 in Petawawa gift certificates the following will need to be clear on your comment to the original post:
1. You @tagged a Petawawa business from the first sector or in response to the first question.
2. You @tagged a Petawawa business from the second sector or in response to the second question.
3. You shared the post with two friends.

BONUS Your two friends can each win a $50 Petawawa gift certificate
If your friends reply to your comment and @tag Petawawa businesses responding to both questions, then if you win they win. Only one $50 gift certificate per valid friend response which will be a random selection from the identified responses.

How will winners be notified?
Winners will be contacted through Facebook and Instagram as selections for the daily posts are made. A final post, which will highlight all the winners and their certificate selections, will be posted on August 12th.
A participant cannot win more than once in this giveaway. In the instance that a participant is selected to win a second time, another eligible entry will be drawn.

Housekeeping Notes:
-No cash value exchanged for any gift certificate.
-Giveaway not sponsored, administered, endorsed or associated with Facebook, Instagram or any other social media platform.
-Winners must respond to Facebook or Instagram messaging notification of their win within 48 hours.
-Winners must be able to provide a mailing address to receive the gift certificates.