Pop Up Container Market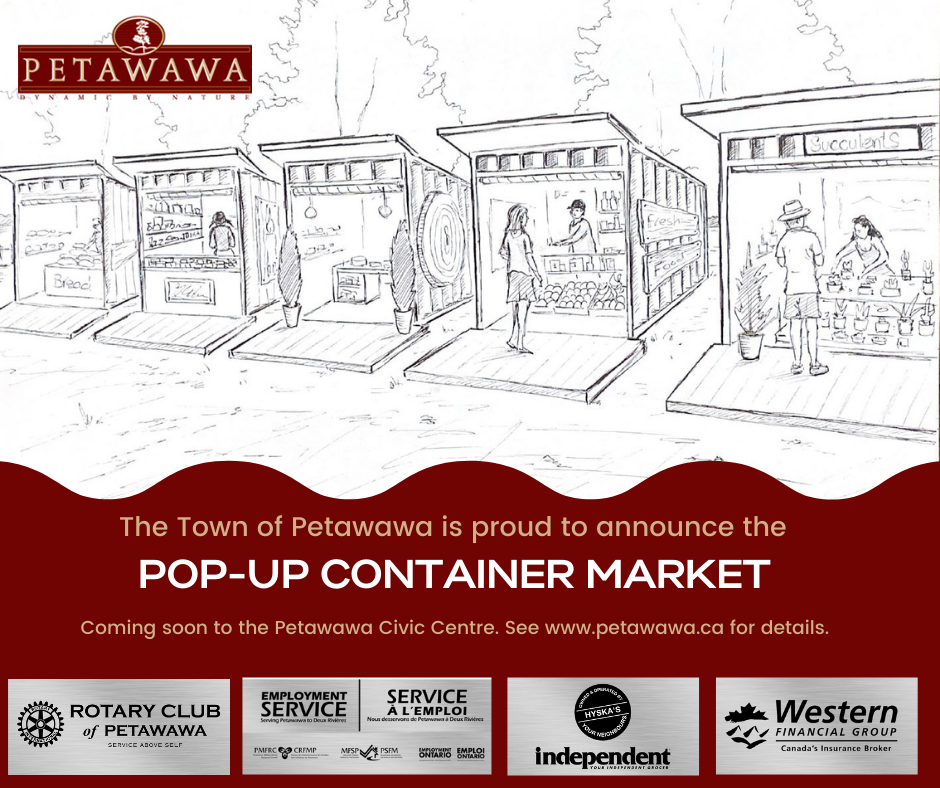 This summer, artists, artisans, small business owners and charitable organizations throughout Renfrew County will have the opportunity to sell and showcase their wares in Petawawa's newest market experience.
Arranged amongst the tree canopy at the Kin Hut area of the Civic Centre are five 10 ft. sea containers available for rent. Highly visible from Petawawa Boulevard, these containers are designed to serve as mini storefronts, from which, vendors will showcase their products to the community. Vendors will be permitted to operate their designated "pop up shop" for a week at a time, and can operate up to three weeks throughout the market season. This rental period will allow sufficient time for the business to gain exposure and generate sales while the rotation of vendors will allow for an ever changing and diverse line up of products to be discovered over the market season.
"Council is pleased and excited to offer this innovative retail and tourism experience in Petawawa", states Mayor Bob Sweet. "These pop up shops provide vendors and the public with a great way to support small local businesses and enjoy a unique safe shopping experience."
The Pop Up Container Market will see additional events or activities organized, on select weekends, and in accordance with provincial health gathering restrictions. These bonus activities coordinated by the Town, or approved facility renters, will increase exposure and sales opportunities for businesses operating a "pop up shop".
Vendors in the Petawawa Pop Up Container Market will be permitted to operate Tuesday to Sunday from 10 am to 9 pm, subject to provincial and public health restrictions. Starting Father's Day weekend, June 18th the market will run until the 3rd weekend of October when we host the Petawawa Ramble. Units must remain open while in operation so this will limit some service businesses from participating in this opportunity. Food vendors who sell prepared products will be eligible to rent a unit but no food production is permitted in the unit due to limited utility services. The pop up shops will be available for rent through the Community Services Department just as any ice, sports field or hall rental would occur.
"The Pop Up market has been realized through the generous support of some local businesses and organizations," stated Economic Development Officer, Christine Mitchell. "We are so pleased to have partnered with Hyska's Your Independent Grocer, Rotary Club of Petawawa, PMFRC Employment Service, as well as Western Financial Group. Together we are creating an opportunity to support entrepreneurs, diversify our community services, draw tourism and enhance our economic growth potential".
For information related to the Pop Up Container Market program please visit our municipal website at The Town of Petawawa www.petawawa.ca

For further information, please contact:
Christine Mitchell – Economic Development Officer
613-687-5536 ext. 2021
cmitchell@petawawa.ca
To book your Pop Up Shop for the week, please contact:
Community Services
613-687-5678
bookings@petawawa.ca