Beyond the Mat Yoga and Fitness - Grand Opening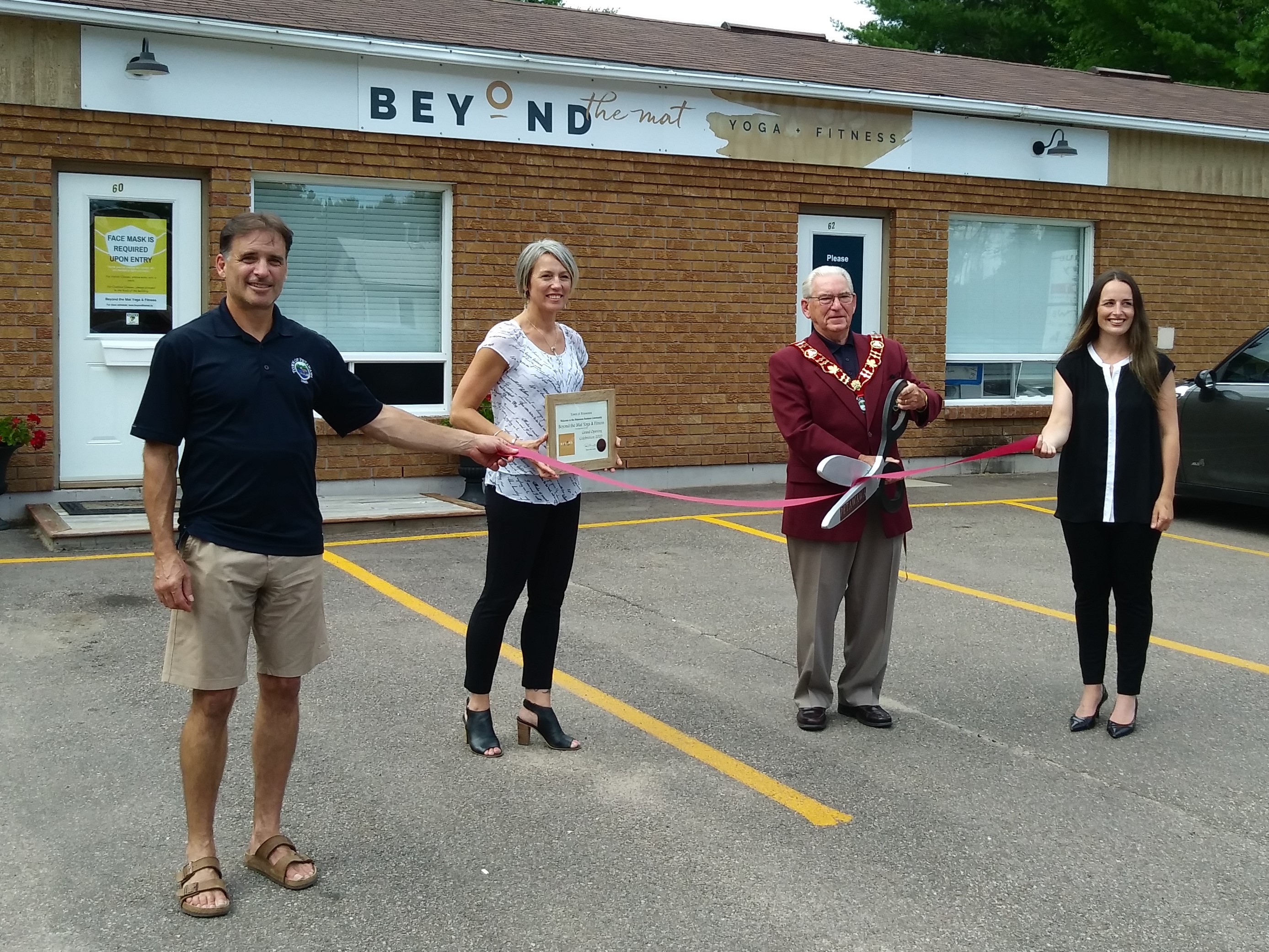 July 29, 2020 Mayor Sweet and Deputy Mayor Serviss officially welcomed Beyond the Mat Yoga and Fitness to the Petawawa business community. Sarah and Mellissa have been serving residents of the community for many years at the Power of One studio formerly owned by Suzette. Upon the sale of their former studio location, Sarah and Mellissa heeded the cry from their clients and embarked on the journey to establish a studio of their own. Having completed much of the work themselves, they have a studio space that is beautiful, light and bright and exudes beach serenity. Six instructors teach a variety of classes both inside and out. Due to physical distancing restrictions the number of participants is limited and booking sessions in advance is required. Visit their website for more details.

---
July 22, 2020 Creating a studio of their own was the realization of a dream for Sarah Gunter and Mellissa Rigby. Some unexpected turns; the retirement of their former mentor, the sale of their former studio, finding and renovating new studio space, opening the studio and then a forced closure due to global pandemic have been some of the challenges this duo has faced and overcome.
Daunted but undeterred, Sarah and Mellissa wanted to provide for their clients. "Our main goal was to stay connected with our amazing clients. They truly have become like family to us and we wanted to support them during these unusual times," stated Sarah. The solution was hosting a series of free weekly virtual classes. The support and attendance exceeded their expectation. This new service even allowed for some sessions with their former mentor. With this new service model in place, the women focused on virtual product sales and local delivery. Most recently, they were able to accommodate some small group sessions in a green area outside their studio space. Their clients have supported their innovation and this duo "are so grateful to the local support they have received," said Mellissa.
Beyond the Mat Yoga and Fitness offers a variety of classes through membership or drop-in fare, to fit anyone's needs. They offer yoga and fitness sessions, in studio and outdoors, in a variety of levels and styles. Pilates, Bootcamp, Barre and Essentrics are just a few options.
Despite an abbreviated studio opening in late 2019, Sarah and Mellissa wish to celebrate an official reopening of their studio space. "Our focus through all of this was to offer a space that was both inviting and welcoming to our clients," said Sarah, so they are excited to invite you in.
Join them on Wednesday, July 29th at 3:30 pm at 60 Mohns Avenue as we officially welcome Beyond the Mat Yoga and Fitness to the Petawawa Business Community.
For further information contact:
Sarah Gunter or Mellissa Rigby
613-685-0800
info@beyondthemat.ca