Volunteers Recognized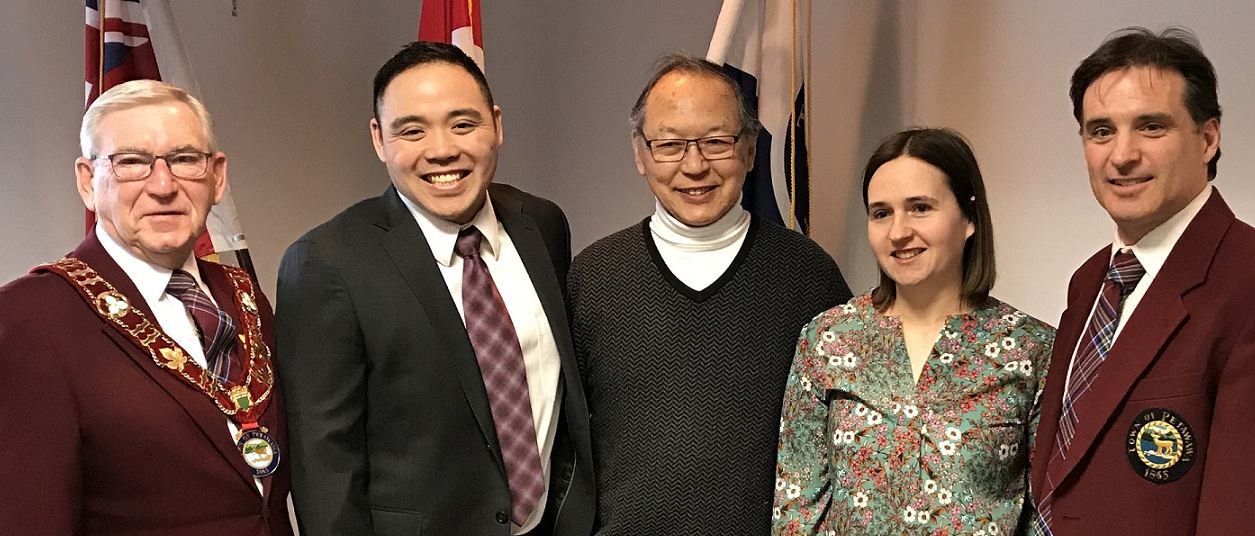 The Petawawa Public Library Board Chair Gary Serviss presented certificates of recognition to outgoing board members Nicholas Chan and Ed Chow during the Council meeting on April 15th, 2019. Nicolas Chan has served on the Library Board for eight (8) years, four as secretary, and Ed Chow for thirty eight (38) years, eight as Chair. Mayor Sweet acknowledged both members for their exemplary volunteerism, dedication and involvement with the community and in particular the Petawawa Public Library. Mayor Sweet personally thanked his long time friend and mentor, Ed Chow who has been a pillar in the Petawawa community since 1968.


Biographies


Nicholas Chan raised in Moncton, New Brunswick, a graduate of the University of Ottawa 2007 came to the area to work at AECL. In 2010 Nick moved to Petawawa and has been a volunteer in this community ever since. For the last eight years he has been a valuable part of the Petawawa Library executive and has participated in recruitment, negotiation, program and policy development activities. Nick is taking a break from direct community service as he and his wife have been blessed with child number two and their focus is currently on these blessings.

Ed Chow born 1939 in Duncan B.C., a graduate from the Pharmacy program at University of B.C. in 1962, proud twelve (12) year member of the Canadian Forces arrived in Petawawa in 1968. Ed and his wife Corry have been institutions in the community ever since. Ed acquired the former Shearer Pharmacy and rebranded it as the Village Pharmacy until it was sold. Ed was then the owner of Roanoke Golf Course for a time.

Ed's political career spans 36 years, staring in 1974 when he was Councillor for the Village of Petawawa (1974-1981). Ed served as Deputy Reeve for the Village from (1982-1985) and after a brief time away returned as Councillor from (1988-1994). From (1995-1997) Ed was Reeve of the Village and then a small stint as Deputy Mayor for the newly amagamated Town of Petawawa in (1997). Ed took the mayoral seat for the Town of Petawawa (1997-2000) and then was Deputy Mayor from (2000-2010).

Ed participated as a committee member and then chair for the Petawawa Public Library from 1980 - 2018. He particpated in the Library's official opening in 1975 and has been the advocating force for numerous expansions of the public entity.

Over the years, Ed has been in service to this community in many forms; he was founding member of the Petawawa Figure Skating Club (1974-1976), member of the Petawawa Civic Centre Management Board (1981-1997), member of the Petawawa Winter Carnival (1983-1993), Canadian Cancer Society - Petawawa Branch President (1983-2013), treasurer for the Petawawa Civic Centre Fundraising Committee (1993-2016), treasurer for the Petawawa Presbyterian Church (200-2019), member of the Petawawa Rotary Club ( 2002-2019) and treasurer, director and President of the Petawawa Housing Corporation (1981-2019).

Ed has decided to take some well earned time and focus on a few community projects while spending some time with Corry, their three children and six grandchildren.