Spring Watershed Resource Page - FLOOD WARNING
Residents of Petawawa


If you require sandbags, please call our Public Works Department at 613-687-5536 during business hours. Outside business hours our emergency line is 1-855-539-7610. Sand has been placed at Risto Road, Southshore Drive, Tall Pines Road and NEW Civic Centre Back 40 where Petawawa residents can access the sand and fill their sandbags. There are also already filled sandbags which community minded individuals have provided, please feel free to take these if you need them.

If you require potable water, residents who may require access to potable water are invited to attend the Petawawa Civic Centre any day between the hours of 7-9 am and 6-8 pm at the arena entrance by the workshop. Staff will then assist you in filling your containers.

If you require shower service, residents who may require shower service can attend the Community Services Office at the Civic Centre where counter staff can assist you.

If you self evacuate your residence, register with the Red Cross by calling 1-800-863-6582. By registering this will ensure you are on the list if any funds do become available to assist those displaced by the flood.

If you are evacuated, contact the Red Cross as they will be able to assist with shelter expenses for the first 72 hours. Call 1.866.637.4263 (operates 24/7)

If you need assistance from Ontario Works, contact the Ontario Works staff in Pembroke at 613-732-2601 or 1-866-897-4849 and they will work with the Red Cross to ensure you can recieve Emergency Aid Assistance.

---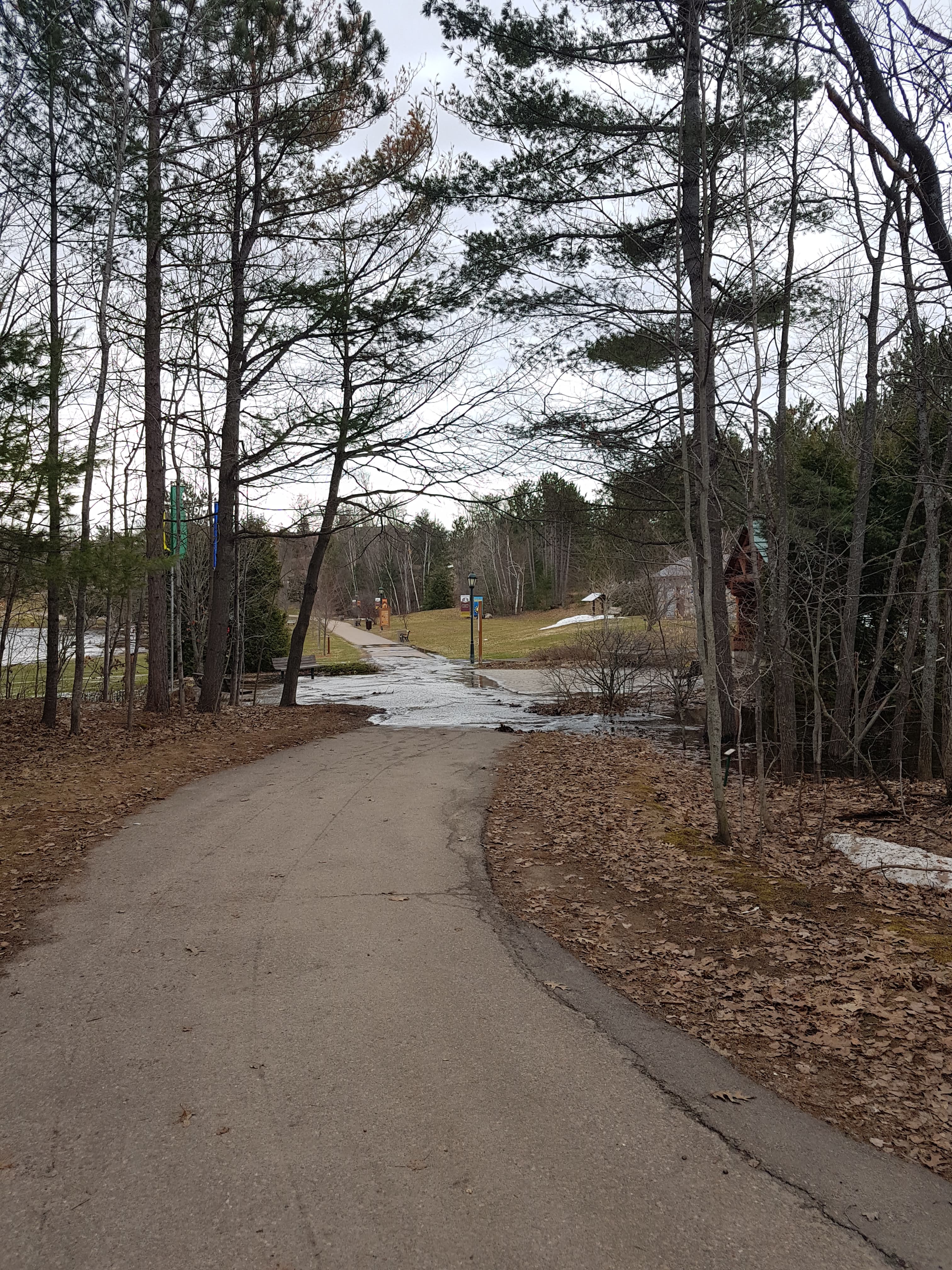 CLOSURES
River Drive from Radtke Road to civic address 268 is still closed. (Town of Petawawa)

Sack Road is closed from civic address 302-376 (gravel portion)

Behnke Crescent (north) to Southshore Drive is closed

Centennial Park is now closed for public access.(04.26.2019) The damage sustained at the park makes the infrastructure unstable and unsafe. Please respect the barriers and stay away.


Petawawa Point Beach is now closed for public access. (04.28.2019)


For further information please call Community Services Department at 613-687-5678 or recreation@petawawa.ca

With river flows at extreme levels, exceeding their banks they pose a serious danger associated with slips and falls along the banks. Bridge infrastructure can also be slippery and extreme caution around these surfaces should be exercised. River water temperatures are extremely cold and pose cold water risks to anyone who may become submerged.





May 14, 2019

The Ministry of Natural Resources and Forestry - Pembroke District is advising area residents that a FLOOD WARNING is in effect for the Ottawa, Bonnechere and Madawaska Rivers and a Watershed Conditions Statement - Water Safety reminder is in effect until Tuesday, May 21, 2019.

Residents should regularily check for updates and excercise extreme caution around fast moving rivers and streams. Residents in historic flood plains should ensure their property is secure and that sump pumps are functioning. See weekly bulletins below.

FLOODING IN ONTARIO
Flooding is the leading cause of public emergency in Ontario.

Flooding can happen at any time. Heavy rains, snowmelt, spring break up and ice jams, wind-related storm surges, or the failure of dams can all cause flooding.

Monitoring weather and flood conditions is a shared responsibility of Conservation Authorities, Ministry of Natural Resources and Forestry (MNRF) and Environment Canada. The MNRF Surface Water Monitoring Centre (www.ontario.ca/flooding) monitors weather forecasts and water levels across the province.

Conservation Authorities and the MNRF are responsible for forecasting where and when flooding is likely to occur, and issuing appropriate messages.

The County of Renfrew DOES NOT have a Conservation Authority and therefore all flood messaging is issued through the MNRF to municipal emergency management officials and the media. The municipal officials then take action to warn local residents. Advance warning of an impending flood allows municipalities and other government agencies to put emergency response plans into action, and if necessary, evacuate communities.

Where can you find out if there is a flood warning in your area?

The Town of Petawawa will post all flood messages issued by the MNRF. These message may also be obtained at www.ontario.ca/ministry-natural-resources-and-forestry.

What if a flood message is issued for your area?
Take heed of the message issued.
Be prepared to follow the instructions of emergency response officials.

Renfrew County & District Health Unit - Information on Floods